Add a comment: Wasabi Nachos
Appetizers Wasabi Nachos
Recipe courtesy of Silver Spring Foods, Inc.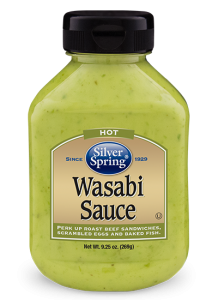 Prep

20min

Total

1hr 14min

Servings

4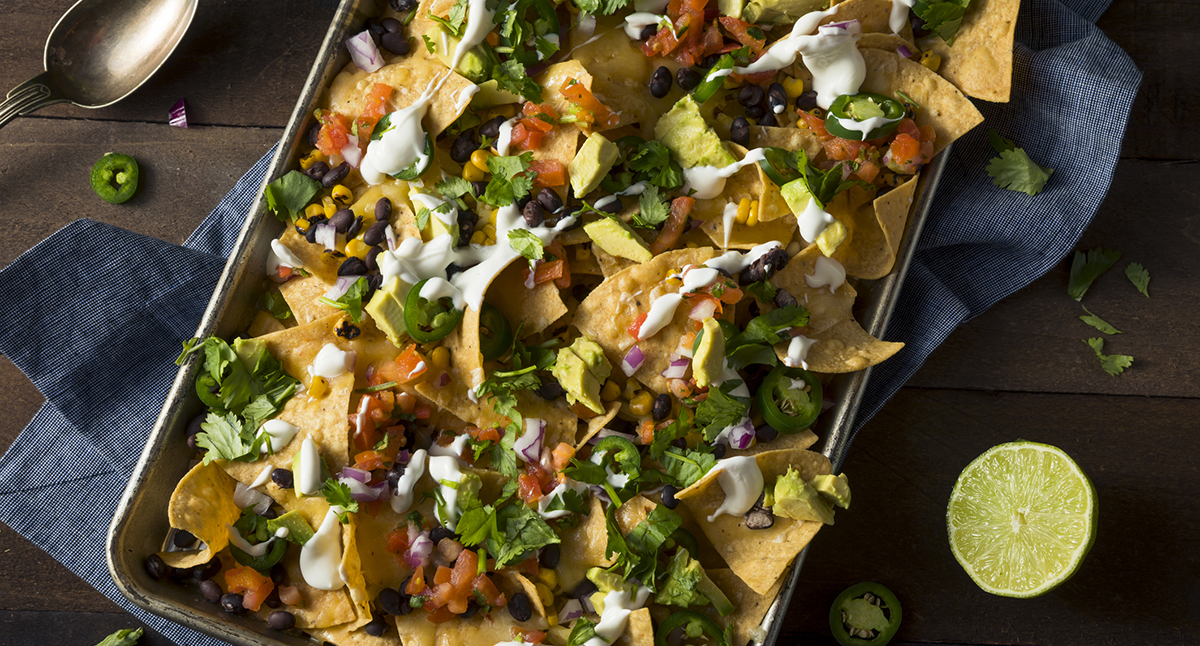 Ingredients:
Sauce
½ cup mayonnaise
3 tablespoons Kikkoman® Rice Wine Vinegar
3 tablespoons Silver Spring™ Wasabi Sauce
4 chicken breasts
Extra Virgin Olive Oil, for brushing the chicken
½ cups Kikkoman® Teriyaki Marinade
1 head Napa Cabbage, chopped into 1-inch x1-inch pieces
1 garlic clove, chopped
1 cup bean sprouts
1 cup match-stick carrots
3 tablespoons brown sugar
3 tablespoons Kikkoman® Soy Sauce
½ cup chopped scallions, (white and green)
Toasted sesame seeds
Directions:
Preheat the oven to 400°.
Whisk together the mayonnaise, Kikkoman® Rice Wine Vinegar and Silver Spring™ Wasabi Sauce. Refrigerate while preparing remainder of the recipe.
Place the chicken breasts into a 9x13 glass baking dish. Brush with extra virgin olive oil to keep moist during baking. Bake for 40 minutes.
Cut the Napa cabbage. Place desired amount of the cabbage onto a serving platter.
After the chicken has finished cooking, shred with a fork. Add the Kikkoman® Teriyaki Marinade to the chicken. You can refrigerate overnight, if you choose. Or, you can layer the chicken on top of the Napa cabbage.
Chop garlic glove. Add 2 tablespoons of extra virgin olive oil to a sauté pan. Add garlic and sauté for 2 minutes or until fragrant. Add the brown sugar and Kikkoman® Soy Sauce. Sauté for 4-5 minutes. Check flavor. May need to add 1/8 teaspoon of salt to balance the sweet flavor.
Chop scallions into small pieces and layer atop the carrots and bean sprouts.
Place the sesame seeds on a baking sheet and in the 400° oven and cook for 6-7 minutes, until lightly toasted. Top the scallions with the toasted sesame seeds.
Serve with the sauce mixture, and rice crackers or tortilla strips. Could also use ingredients to make a personal pizza.
Use the rice wine vinegar -wasabi sauce mixture as the pizza sauce and then use the ingredients as the toppings and bake in the oven.
Comments about Wasabi Nachos:
Be the first to comment on this recipe! Click the "write a review" button above.