Add a comment: Dill Pickle Brined Chicken Tenderloins with Chipotle Mustard Sauce
Main Course Dill Pickle Brined Chicken Tenderloins with Chipotle Mustard Sauce
Recipe courtesy of and photo created by Meghan Baker with @foodincleveland
Prep

-

Total

-

Servings

8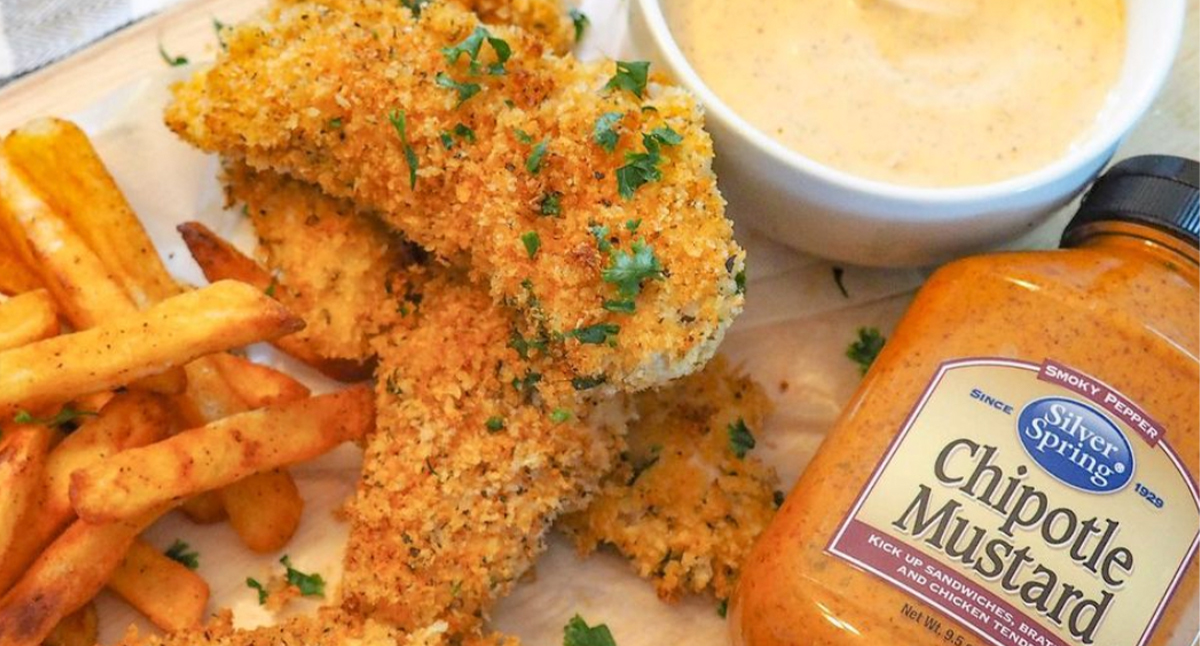 Ingredients:
For the Chicken
3/4 pound chicken tenderloins (about 8 tenderloins)
1-2 cup(s) dill pickle juice
2 eggs
3/4 cup panko breadcrumbs
4 tbsp grated parmesan
1 tsp garlic powder
1tsp Italian seasoning
1/2 tsp paprika
1/4 tsp kosher salt
1/4 tsp black pepper
Olive oil spray
For the Sauce
3 tbsp Silver Spring Chipotle Mustard
6 tbsp sour cream
1 tbsp mayonnaise
1/2 tsp garlic powder
juice from 1/2 a lemon
Kosher salt and pepper to taste
Directions:
Place chicken in an air-tight container, and top with 1 cup of pickle juice. If chicken is not fully submerged, add more pickle juice. Cover the container with the lid and refrigerate for 4 hours.
While the chicken is brining, make the chipotle mustard sauce. Mix all the sauce ingredients together and refrigerate until serving.
Preheat oven to 430 degrees Fahrenheit. Cover a baking sheet with aluminum foil, and spray with olive oil spray.
In a shallow bowl, mix the panko breadcrums, grated parmesan, garlic powder, Italian seasoning, paprika, kosher salt, and black pepper. In a seperate bowl, whisk the two eggs together.
Remove chicken from brine, and pat dry with paper towels. Dip chicken in egg mixture and then in bread crumb mixture, coating thoroughly.
Place chicken on the prepared baking sheet. Spray the top of the chicken tenderloins with olive oil spray. Bake in the preheated oven for 12 minutes, until crispy and cooked through.
Serve with the chipotle mustard sauce and enjoy!
Comments about Dill Pickle Brined Chicken Tenderloins with Chipotle Mustard Sauce:
Be the first to comment on this recipe! Click the "write a review" button above.