Flavor Profile
It's creamy, slightly sweet and has a touch of smoke flavor with a strong horseradish kick.
+ +
Pairs well with…
Baked or grilled salmon
Grilled steak
Potatoes
Hot beef sandwich
Dips
Our Applewood Smoke Flavored Horseradish Sauce has a creamy texture and a slightly sweet and smoky flavor, with a strong horseradish heat. This sauce is a delicious complement to a variety of your favorite foods.
Water, Soybean Oil, Horseradish, Sugar, Champagne Vinegar, Distilled Vinegar, Food Starch, Egg Yolks, Salt, Mustard Flour, Molasses, Corn Syrup, Caramel Color, Garlic Powder, Tamarind, Applewood Smoke flavor, Natural Flavor, Spices, Vitamin E, Xanthan Gum CONTAINS: EGGS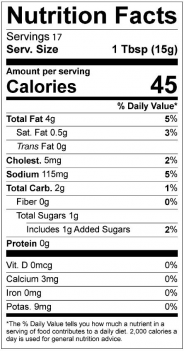 Applewood Horseradish Mashed Potatoes
Applewood Smoke Flavored Deviled Eggs
Applewood Smoked Hummus With a Kick
Bacon Blitz Cheddar Horseradish Dip
Delicious Roast Beef Sliders
Easy Applewood Horseradish Dipping Sauce
Horseradish Cream Cheese Stuffed Pepperoncini
Mini Applewood Chicken Salad Sandwiches
Salmon with Applewood Smoke Flavored Horseradish
Steak & Cheese Sliders with Applewood Horseradish Sauce
Tailgate Smorgasbord with 5 Zesty Appetizers