Add a comment: Ultimate Charcuterie Playbook
Appetizers
Ultimate Charcuterie Playbook
Recipe courtesy of Silver Spring Zing Masters Test Kitchen
Prep

10min

Total

15min

Servings

20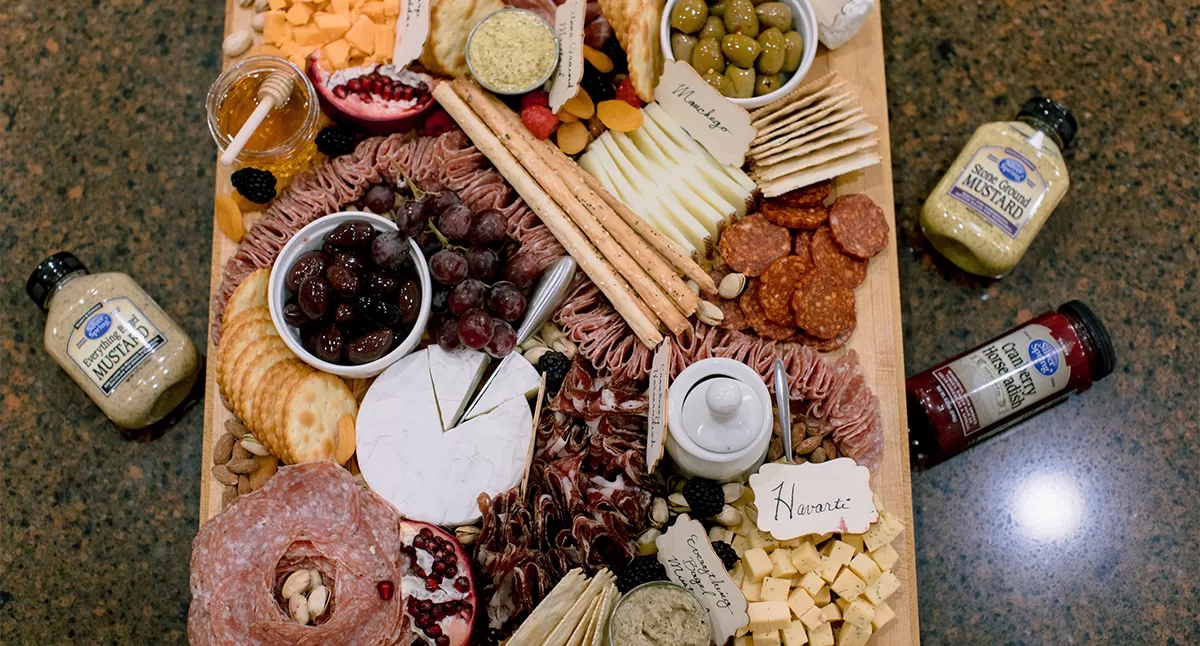 Ingredients:
The Cheeses

1 soft spreadable cheese, We recommend: Brie, Camembert, Cardo, or Époisses
1 super aged crumbly cheese, We recommend: 7 -12 year Cheddar, aged Gouda, aged Parmesan
1 less mature cheese for cubing, We recommend: Havarti, Jack, Münster, Fontina, or curds if you can find them!
1 hard cheese wedge with a showy rind, We recommend: Manchego, Campo de Montalbán, Zamorano, Ibérico, Cabra Al Vino
1 spreadable round, We recommend: Chèvre, Boursin, Fromage Blanc
The Cured Cuts

Thin Circular, We recommend: Coppa, Salami, Sopressata, Calabrese, Capocollo
Long Ribbons, We recommend: Prosciutto, Jamón Ibérico, Serrano Ham, Speck
Thick Medallions, We recommend: Chorizo, Pepperoni, or ask for custom slices of your butcher's recommendation
Accoutrements
Carbohydrates, We recommend: Water crackers, dipping sticks, seeded crackers, crostini, bagel rounds, sesame crackers
From the Grove, We recommend: Pistachios, blanched almonds, cashews, olives, figs, pomegranate, dried apricots
Sweets and Treats, We recommend: Fresh berries, grapes, dark chocolate, a honey pot, jams or jellies, Silver Spring Cranberry Horseradish
Savory Spreads, We recommend: Silver Spring Everything Bagel Mustard, Silver Spring Stone Ground Mustard, Silver Spring Whole Grain Mustard, Silver Spring Chipotle Mustard, Silver Spring Prepared Horseradish
Directions:
Arrange ingredients as desired.
Watch our "How-To Tips & Tricks" Video Here!
Save time with our "Quick Tips" Video Here!
Comments about Ultimate Charcuterie Playbook:
Be the first to comment on this recipe! Click the "write a review" button above.