Add a comment: Creamy Jalapeno Mac and Cheese
Creamy Jalapeno Mac and Cheese
Recipe courtesy of Silver Spring Foods, Inc.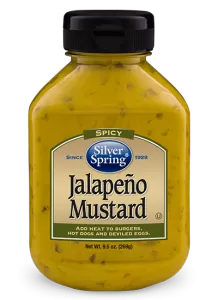 Prep

15min

Total

30min

Servings

4
Ingredients:
1 lb pasta of choice
1 stick unsalted butter
1/3 cup panko breadcrumbs
1 1/2 cups half-and-half
2 tbsp Silver Spring Jalapeno Mustard
3 cups shredded sharp Cheddar
8 oz processed cheese such as Velveeta, cut into 1/2-inch pieces
Optional: chopped jalapenos, chopped fresh cilantro, additional breadcrumbs
Directions:
Bring a large pot of water to a boil. Cook the pasta; drain.
Meanwhile, melt 2 tbsp butter in medium saucepan over medium heat. Add the panko and cook, stirring constantly, until golden brown, about 4 minutes. Transfer to a bowl.
Combine the half-and-half, Silver Spring Jalapeno Mustard and remaining 6 tbsp butter in saucepan, simmer over medium-high heat. Add the Cheddar and processed cheese and stir until smooth. Stir in the pasta. Optional: sprinkle with jalapenos, cilantro and breadcrumbs.
Comments about Creamy Jalapeno Mac and Cheese:
Jalapeno Mustard

By Juleen Vallafskey from Shiocton, Wi.
October 25, 2022

Absolutely our new favorite mustard! Can't wsit to make this mac and cheese!