Add a comment: Curried Root Vegetable Soup with White Beans
Curried Root Vegetable Soup with White Beans
Recipe courtesy of Chef Steve Knowlton, Pablo Center & Feed My People Food Bank
Prep

20min

Total

1hr 20min

Servings

8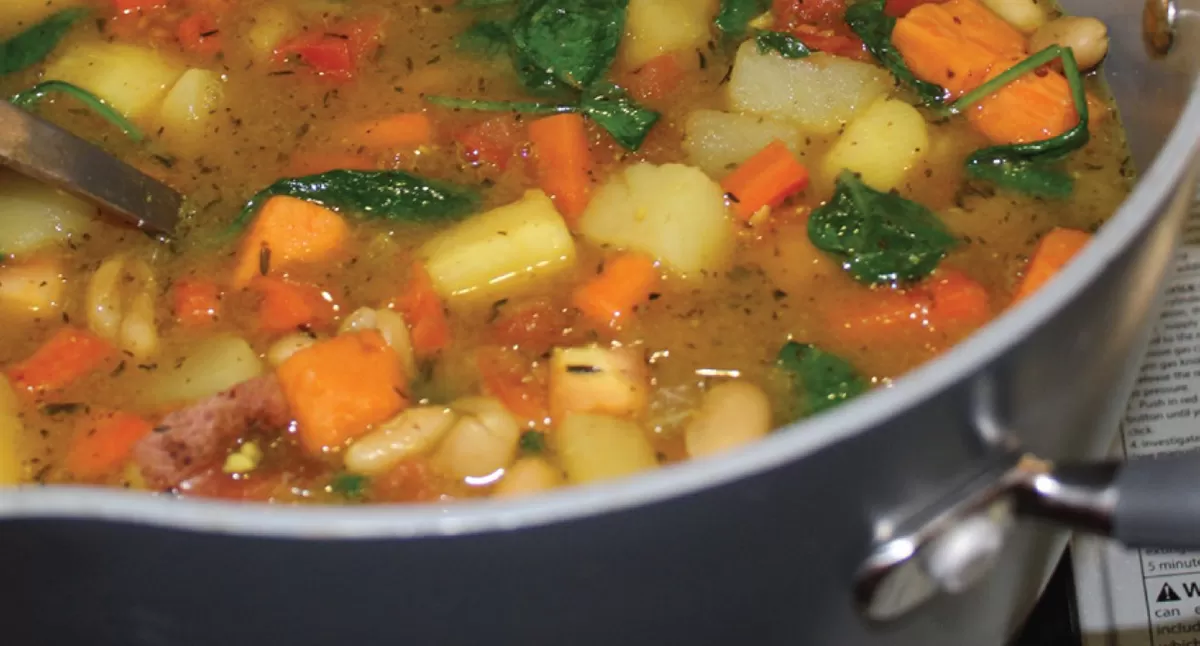 Ingredients:
1/4 cup Silver Spring Foods Stone Ground Mustard
1 tablespoon Silver Spring Foods Cream Style Horseradish, or more to taste
Extra-virgin olive oil to cover bottom of soup pot
1 medium yellow or white onion, diced
3 carrots, peeled and diced
2 celery stalks, diced
6 cloves garlic, minced
1 tablespoon curry powder or paste
1 tablespoon dried thyme
1 cup beer or white wine (or non-alcoholic alternative such as ginger ale)
1 cup each chopped seasonal vegetable, such as sweet potatoes, green beans, butternut squash, potatoes, bell pepper, zucchini, or yellow squash
4 cups (32 ounces) vegetable broth
2 cups of water as needed
1 teaspoon fine sea salt
2 bay leaves
Freshly ground black pepper, to taste
2 cups chopped kale, collard greens, chard (thick ribs removed), or spinach
2 cups of freshly diced tomatoes
1 can of your favorite beans
1 tablespoon lemon juice
1 tablespoon olive oil
Directions:
In a large Dutch oven or soup pot over medium heat, add olive oil to coat the bottom of the pan. Once the oil is shimmering, add the diced onion, carrot, celery and 1/2 teaspoon of salt.
Cook, stirring often, until the onion has softened and is turning translucent, about 6 to 8 minutes.
Add the garlic, curry powder or paste, thyme, Silver Spring Stone Ground Mustard, and Silver Spring Cream Style Horseradish. Cook until fragrant while stirring frequently, about 1 minute. Turn heat down to low and deglaze pan with 1 cup beer or wine and sweat vegetables for 5 minutes.
Add and stir in seasonal vegetables, coating them in seasoning.
Pour in the broth, water, and add 1/2 teaspoon more salt and 2 bay leaves. Season generously with freshly ground black pepper. Raise the heat and bring the mixture to a boil, then partially cover the pot, and reduce heat to maintain a gentle simmer.
Cook for 10 to 25 minutes depending on the vegetable, then remove the lid and add the chopped greens, tomatoes, and beans. Continue simmering for 5 minutes or more, until the greens have softened to your liking.
Remove the pot from heat and remove the bay leaves. Taste and season with more salt and pepper
Divide into bowls and garnish with lemon juice and remaining 1 tablespoon of olive oil.
TIP: You might need up to one teaspoon more salt, depending on your vegetable broth and your personal preferences.
TIP: If you want a creamy soup, you can use an immersion or traditional blender and blend till desired texture is achieved.

Watch the video here: How-To Cooking Video

More info here: Cook With Feed My People
Comments about Curried Root Vegetable Soup with White Beans:
Be the first to comment on this recipe! Click the "write a review" button above.