Add a comment: Apple Tart with Walnut-Horseradish Frangipane
Desserts
Apple Tart with Walnut-Horseradish Frangipane
Recipe courtesy of cookbookarchaeology.com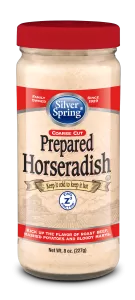 Prep

20min

Total

1hr 60min

Servings

10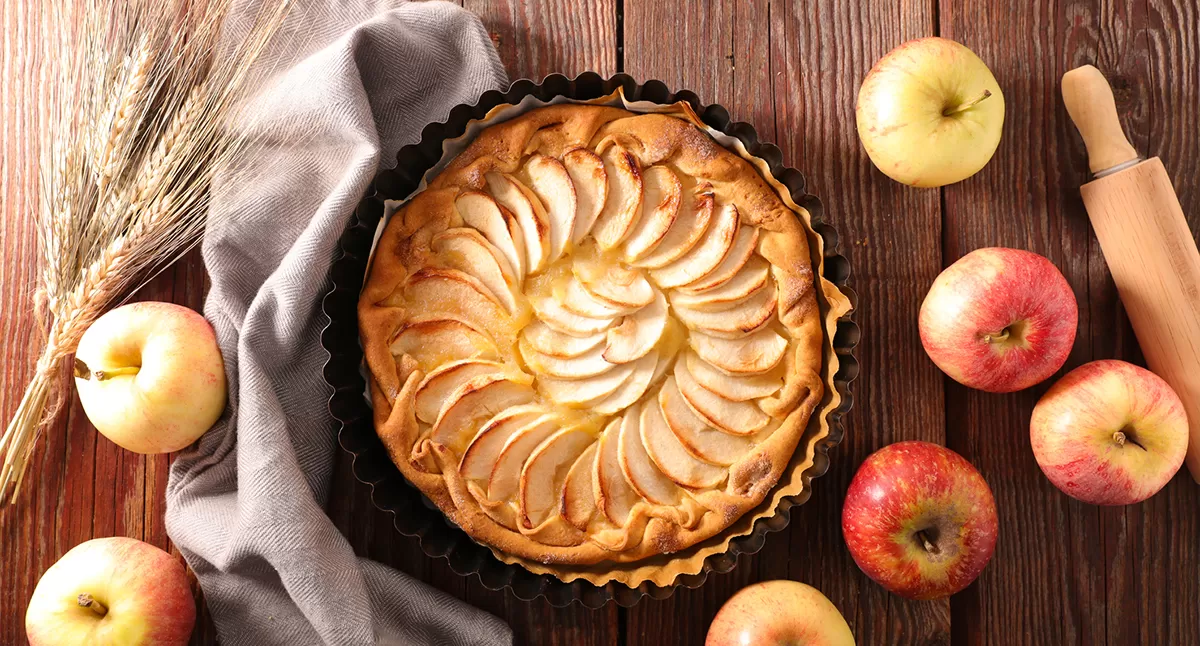 Ingredients:
1 tart crust of choice (pate sucree or matzoh meal crust**)
2 medium apples (Gala work well)
1 c. chopped walnuts
1 large egg
6 tbsp. unsalted butter (or margarine if you're having a meat meal)
1/4 tsp. salt
1/2 c. sugar
1 tbsp. Silver Spring Prepared Horseradish
2 tbsp. red wine
1 tbsp. honey
1/2 tsp. ground cinnamon
Directions:
Core the apples and slice them very thin (1/8-inch thickness or less). Place the walnuts, salt, sugar, egg, Silver Spring Horseradish, and 4 tablespoons of the butter in a food processor and pulse until blended into a rough paste.
Prick your crust all over with a fork, cover it with aluminum and pie weights or dry beans, a blind bake it at 425 degrees – 15 minutes for pate sucree, 10 for matzoh. Remove the crust from the oven, gently lift the aluminum and weights off, and turn the oven down to 375 degrees.
Melt the remaining 2 tablespoons of butter and whisk in the wine, honey, and cinnamon over low heat. Remove from heat immediately when the ingredients have blended into a viscous glaze.
Pour the walnut paste into the par-baked tart shell and push apple slices, curved side up, into the paste. Press the slices as close together as possible without letting them touch. Brush the top of the tart with the wine glaze.
Bake for 30 to 40 minutes in the 375 degree oven, until the walnut frangipane bubbles up around the fruit. Cool to room temperature before serving.
**To get rid of all the chametz…here's a classic Matzoh Pie Crust (from the Complete American Jewish Cookbook): Soak 4 matzohs in water for 5 minutes, drain, and squeeze them dry. Heat 2 tablespoons vegetable oil or margarine, add the matzohs and heat until they dry out, then mix in a medium bowl with 1/2 cup matzoh meal, 4 eggs, 4 tablespoons sugar, and 1/2 teaspoon salt. Pat into the bottom of a pie or tart pan and blind bake for 10 minutes (as you would a graham cracker crust) before filling.
For the filling, sub margarine for butter if you're having a meat meal.




Comments about Apple Tart with Walnut-Horseradish Frangipane:
Be the first to comment on this recipe! Click the "write a review" button above.