Dilltata
Recipe courtesy of Silver Spring Foods
Prep

15min

Total

30min

Servings

4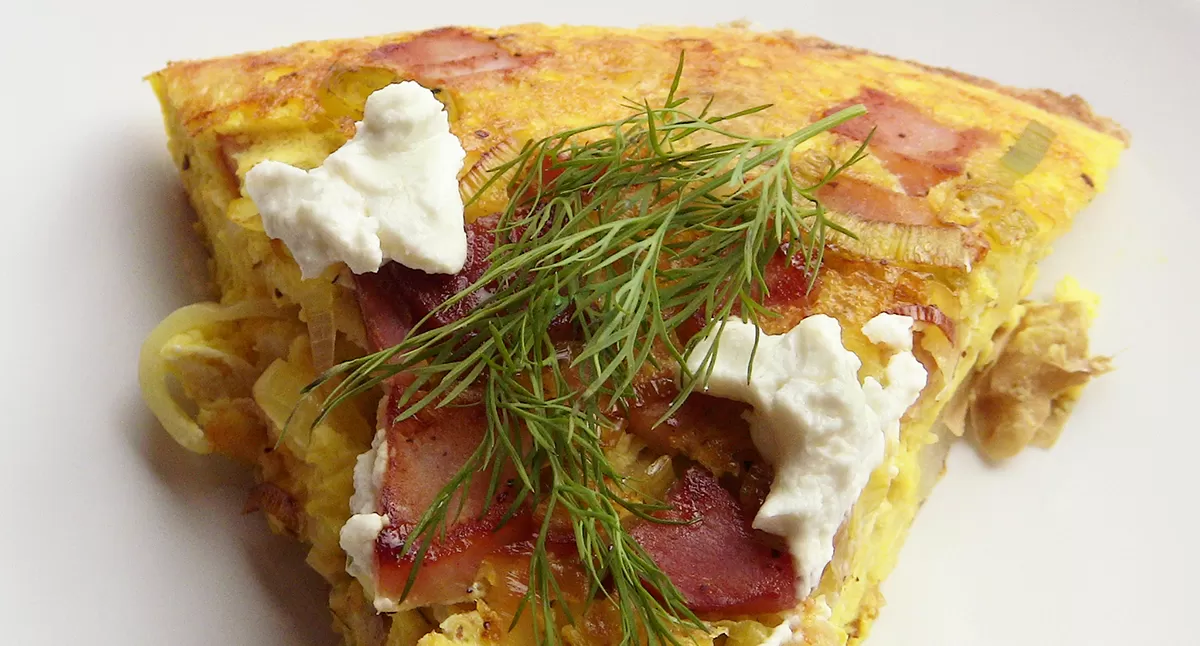 Ingredients:
12 baby gold potatoes
2 leeks
6 slices Canadian bacon
½ teaspoon salt
¼ teaspoon pepper
Cooking spray
1 teaspoon canola oil
8 eggs
6 tablespoons Silver Spring Dill Mustard
4 oz goat cheese log
Fresh dill sprigs for garnish, optional
Directions:
Fill a small or medium pot about halfway up with water. Bring to a boil; add potatoes and cover. Simmer for 10 minutes or until just tender. Drain water. Cut potatoes into fourths. Set aside.
Set oven to broil. Cut the green tops and the roots off of the leeks. Rinse thoroughly. Cut each leek in half and then chop into ¼-inch pieces. Cut the Canadian bacon into ¼-inch x ¼-inch pieces. In a medium-size skillet, add the cooking spray and canola oil. Sauté the leeks and Canadian bacon with the salt & pepper until the leeks are translucent, and the Canadian bacon is slightly browned, about five minutes. Add the potatoes to the skillet.
In the meantime, whisk together the eggs and Silver Spring Dill Mustard. Add to the skillet after the leeks and Canadian are sautéed. Turn the pan so the eggs fully cover the leeks, Canadian bacon, and potatoes. Crumble 2 oz of the goat cheese over the mixture. When the edges of the eggs start to separate from the sides of the pan, turn off the heat. Place the pan under the broiler until the frittata is lightly golden and the eggs are fully set, about 3-5 minutes.
Immediately turn the frittata onto a large serving plate and garnish with the remaining goat cheese and fresh dill sprigs. Cut into 4 slices and serve. Serves 4.
Comments about Dilltata:
Be the first to comment on this recipe! Click the "write a review" button above.