Add a comment: Jordan's Smashed Potato and Filet Mignon Hero
Jordan's Smashed Potato and Filet Mignon Hero
Recipe courtesy of Jordan Andino with @fork_knife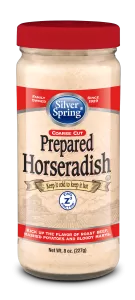 Prep

10min

Total

20min

Servings

1
Ingredients:
3 slices, provolone cheese, halved
1 tblsp, sriracha
2 tblsp, Silver Spring Prepared Horseradish (or Non-GMO Horseradish coming soon!)
3 tblsp, creme fraiche
1 cup, fingerling potatoes, halved
4 tblsp, unsalted butter
10inch baguette, cut in half - long ways (sandwich preparation)
6oz, filet mignon, sliced into 1/2 inch slices
1 tblsp salt
1/2 tblsp fresh cracked pepper
1/2 tsp garlic powder
1/2 tsp sweet paprika
1/2 lemon, juiced
Directions:
Heat a sauté pan on high for 2 minutes
Add 2 tblsp of butter to pan and melt
Add fingerling potatoes to pan and turn heat down to medium
Season potatoes with 1/2 tblsp salt, 1/4 tblsp pepper, 1/2 tsp paprika, and 1/2 tsp garlic powder
Toss and cook on medium for 5 minutes stirring constantly
After the 5 minutes, smash potatoes with a smaller stiff pot or potato masher so the potatoes are semi-smashed, then continue to cook for 2 more minutes to ensure crispy edges
Turn off the heat and leave in pan for later assembly
In a small mixing bowl place the creme fraiche, sriracha, and horseradish and mix until fully combined, set aside for assembly
Heat sauté pan on high for 2 minutes
Add 2 tblsp of butter to pan and melt
Add filet mignon to pan and season with remaining salt and pepper and stir constantly on high heat for 3 minutes
Turn heat to medium and remove meat from pan to rest
In the pan, place both halves of bread, cut side down on the remaining butter and toast for 2 minutes on medium heat
ASSEMBLY:
Take both pieces of toasted bread and spread sriracha horseradish sauce evenly on both sides
Add provolone cheese to both sides and melt in broiler or toaster oven
Add slices of filet mignon to bottom toast, placing them evenly to ensure even bites and assembly
Place crispy, smashed potatoes on top of filet mignon in orderly and even fashion
Add top piece of cheesy, saucy toast to close the sandwich and slice in half to serve
ENJOY!
https://www.instagram.com/p/CI1gJnCn-A1/
Comments about Jordan's Smashed Potato and Filet Mignon Hero:
Be the first to comment on this recipe! Click the "write a review" button above.