Add a comment: Panko Fried Zucchini
Panko Fried Zucchini
Recipe courtesy of Silver Spring Foods, Inc.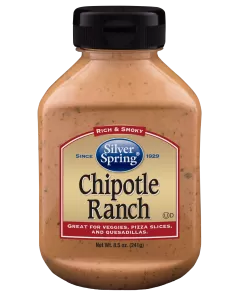 Prep

20min

Total

32min

Servings

4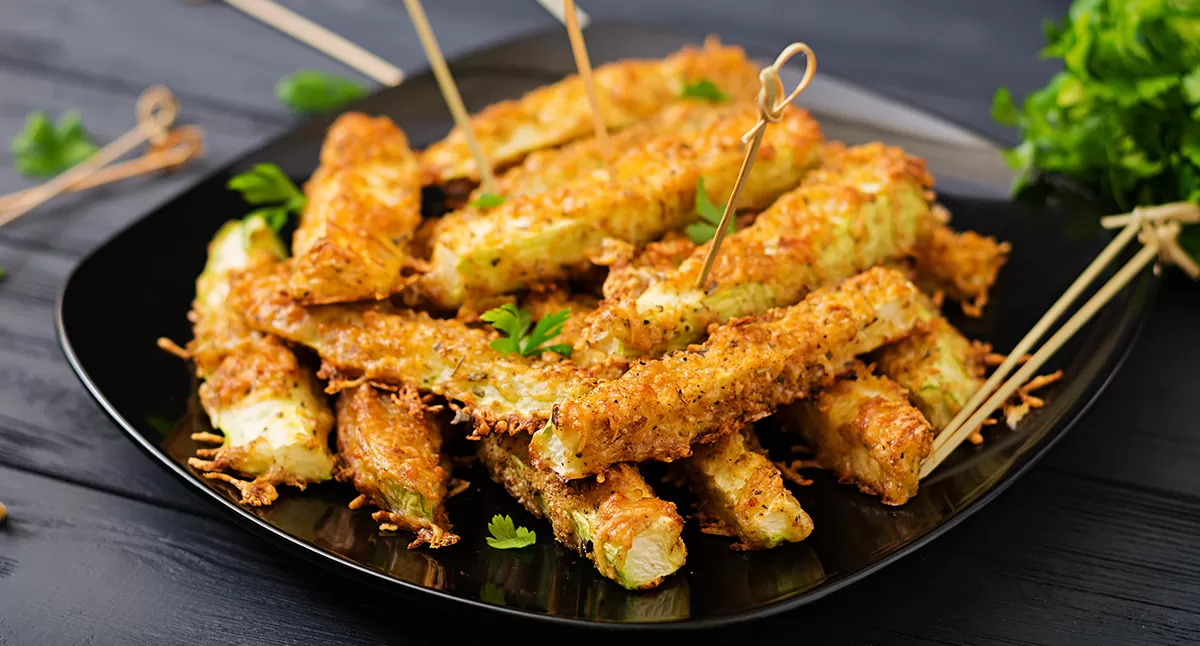 Ingredients:
1/2 C Milk
1/2 C Flour
2 large eggs
3/4 C Panko Bread Crumbs
Grapeseed or coconut oil (vegetable oil works too)
Fresh zucchini (2 medium, sliced 3/8" thick on the bias)
1/2 tsp paprika
1/2 tsp onion powder
1/2 tsp salt
1/2 tsp pepper
Silver Spring Chipotle Ranch
Sheet pan lined with parchment paper
Baking dish lined with paper towels
Toothpicks
Directions:
Combine milk and 1 tsp Silver Spring Chipotle Ranch in a small bowl. Set aside.
Combine flour, paprika, onion powder, salt and pepper in a medium bowl. Set aside.
Crack eggs in a small bowl along with 1 TBS milk and beat until yolks are thoroughly combined with whites. Set aside.
Pour 1/2 a cup of panko bread crumbs in a medium bowl or plate. Set aside.
Slice zucchini 3/8" on the bias (you can do straight slices as well - consistent thickness is most important)
Fill medium sauce pan with 3/8 inches of oil. Turn on heat to low.
Set up ingredients on your countertop in the following order: 1. zucchini, 2. milk mixture, 3. flour mixture, 4. egg, 5. Panko. Place sheet pan lined with parchment at the end of the line.
Unless you don't mind getting your fingers extremely sticky and coated with ingredients, use a toothpick (or a fork) to handle zucchini slices. Take a slice of zucchini and dip it into the milk mixture. Let excess fall back into the bowl. Next, lightly coat zucchini with flour mixture. Tap or rub off excess flour - you want a thin coat. Dip zucchini in egg mixture and coat completely. Allow excess to drain back into the bowl. Finally, thoroughly coat zucchini with panko on all sides. Place on sheet pan lined with parchment. Bread all zucchini slices before frying.
Turn heat to medium and wait a few minutes until oil gets to temperature. Test heat by placing a crumb of panko in the oil. It should bubble but not turn brown instantly. Adjust heat if necessary.
Fry breaded zucchini 4 to 6 at a time. Watch for browning about half way up the side, then flip. Remove from heat when golden brown and drain on paper towels. Serve with Silver Spring Chipotle Ranch.
Comments about Panko Fried Zucchini:
Be the first to comment on this recipe! Click the "write a review" button above.