Add a comment: Reuben Rolls with Homemade Russian Dressing
Reuben Rolls with Homemade Russian Dressing
Recipe courtesy of dudefoods | Recipe and Images created by @dudefoods
Prep

15min

Total

20min

Servings

12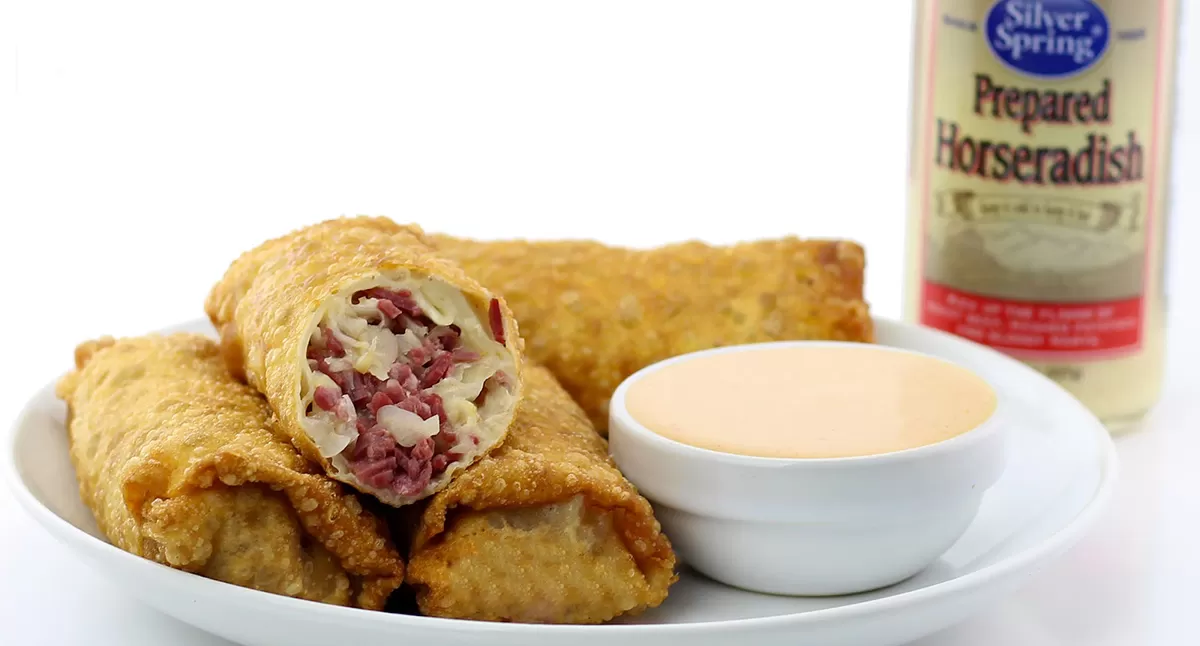 Ingredients:
Russian Dressing:
1 cup mayonnaise
1/4 cup ketchup
2 tablespoons Silver Spring Foods Non-GMO or Prepared Horseradish
1 teaspoon Worcestershire sauce
1/4 teaspoon smoked paprika
⠀⠀⠀⠀⠀⠀⠀⠀⠀
Egg Rolls:
2 quarts oil for frying
1 pound corned beef, diced
8 ounces Swiss cheese, shredded
1 can (14.5 ounces) sauerkraut, drained
12 egg roll wrappers



Directions:
Russian Dressing:
Mix all ingredients together in a small bowl until combined.
Egg Rolls:

Heat oil in deep fryer or heavy skillet to 375°F.
Combine corned beef, Swiss cheese and sauerkraut in a bowl and mix until combined.
Lay out an egg roll wrapper with one of the edges pointing toward you.
Spoon approximately 1/4 cup of corned beef, Swiss cheese and sauerkraut mixture into the center of the egg roll wrapper and using your fingers wet all four edges. This will help the egg roll stay together after you roll it.
Next, take the corner that's pointing toward you and fold it up over the filling, fold the left and right ends in and roll the egg roll up. Repeat for the remaining egg rolls.
Fry egg rolls in batches for 3 minutes or until golden brown.
Drain on paper towels and serve with Russian Dressing for dipping purposes.
Serve and enjoy!
Recipe Courtesy of @dudefoods
Recipe also found: here
Comments about Reuben Rolls with Homemade Russian Dressing:
Be the first to comment on this recipe! Click the "write a review" button above.