Add a comment: Roasted Pepper Salsa
Roasted Pepper Salsa
Recipe courtesy of Silver Spring Foods, Inc.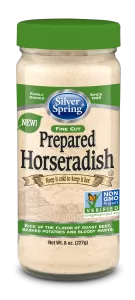 Prep

10min

Total

25min

Servings

8
Ingredients:
2 large Pasilla Peppers
4-5 medium ripe tomatoes
1 small or ½ medium sweet onion
2-3 cloves garlic
3-4 Tablespoons Non-GMO Prepared Horseradish
Juice from 1 small lime
¼ Cup fresh oregano
½ cup fresh cilantro
Salt and pepper to taste
Directions:
Watch our "How-To" Video HERE!
Roast peppers over open flame on a gas stovetop or barbeque until well-charred. Set aside to cool.
Cut tomatoes in half. Remove seeds, then cut into quarters.
Large dice the sweet onion.
Fine dice the garlic.
Cut lime in half. Use a fork to help squeeze lime juice with your hand.
When peppers are cool, slice open along length, remove stems and seeds. Coarsely chop.
In food processor with blade attachment, add the tomatoes, peppers, onion, garlic, horseradish, and lime juice.
Add lid and pulse until a coarse chop is achieved, about 10 pulses over 10 seconds.
Remove lid and scrape down sides with a spatula.
Add oregano, cilantro, salt, and pepper.
Place lid on food processor and pulse again to achieve a fine dice, about 10 pulses over 10 seconds. Be careful not to over process to avoid creating soup.
Transfer salsa into a large mixing bowl.
Add more salt and pepper to taste if needed.
Transfer to a serving bowl with your favorite tortilla chips.
Store in a glass container with a lid and use within two weeks.
Comments about Roasted Pepper Salsa:
Be the first to comment on this recipe! Click the "write a review" button above.