Add a comment: Smashed Potatoes with Horseradish-Herb Butter
Smashed Potatoes with Horseradish-Herb Butter
Recipe courtesy of Silver Spring Foods, Inc.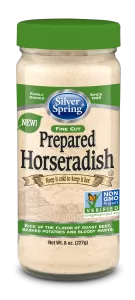 Prep

45min

Total

1hr -

Servings

2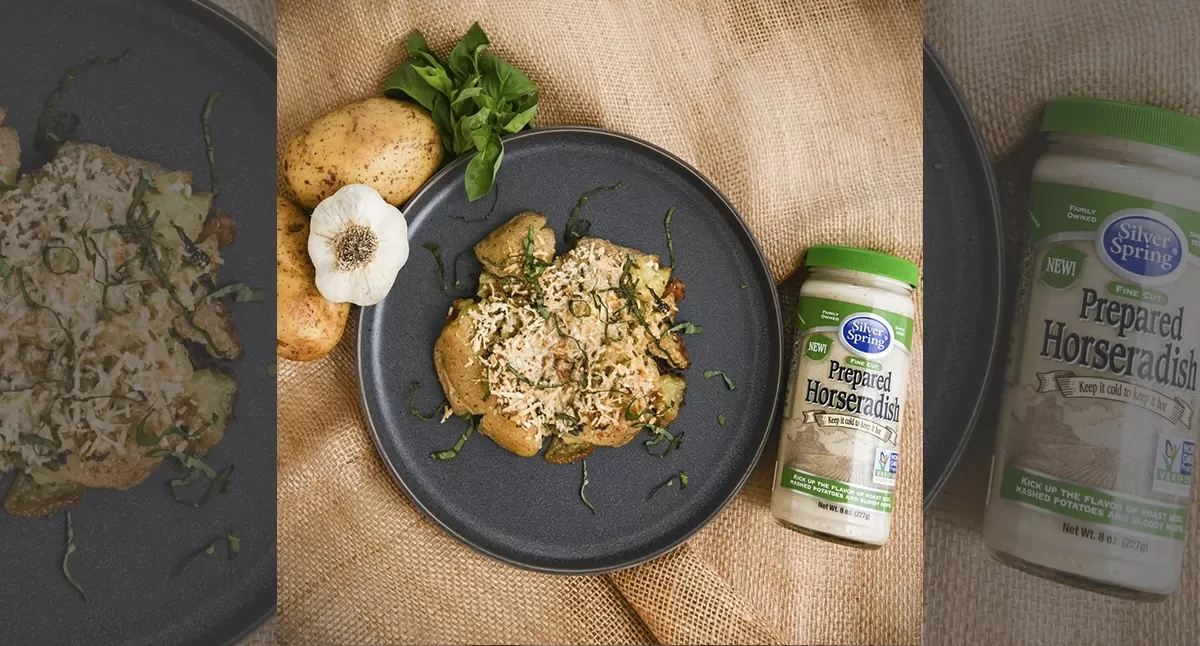 Ingredients:
4 medium Yukon Gold potatoes, steamed whole until soft
½ cup Butter
1 clove Garlic, minced
2 tablespoons fresh Basil, finely chopped
2 tablespoons fresh Oregano, finely chopped
2-3 tablespoons Silver Spring Non-GMO Prepared Horseradish
½ cup shredded Parmesan Cheese
Salt and Pepper to taste
Directions:
Watch our "How-To" Video HERE!
Steam potatoes for 30-45 minutes in a large pot with steamer insert. Set aside and let cool while you prepare other ingredients.
Preheat oven to 350 degrees.
In a small microwave-safe bowl, melt butter.
Add garlic, herbs, and Silver Spring Non-GMO Prepared Horseradish to melted butter. Mix well and set aside.
Prepare a sheet pan lined with non-stick foil. If you're using regular foil, coat with non-stick cooking spray or brush on a high smoke point oil such as avocado or peanut oil.
One by one, place steamed potatoes on a sheet pan and give each a quick coat of spray or oil.
Using a wide spatula or other flat surface, apply even pressure downward and smash down potatoes flat and even. Make sure to space out potatoes far enough apart to account for spreading.
With a soup or tablespoon, stir butter well once more and apply one spoonful of butter mixture on each potato. Add more to each if you have leftover butter.
Add salt and pepper to taste.
Sprinkle each potato liberally with parmesan cheese.
Bake in the oven for 8-12 minutes or until the cheese and edges of the potatoes are slightly browned.
Remove from oven and let cool 3-5 minutes
Serve garnished with a chiffonade of basil or chopped Italian parsley.
Comments about Smashed Potatoes with Horseradish-Herb Butter:
Be the first to comment on this recipe! Click the "write a review" button above.