Add a comment: Smoked Brisket
Smoked Brisket
Recipe courtesy of Silver Spring Foods, Inc.
Prep

1hr

Total

11hr 30min

Servings

6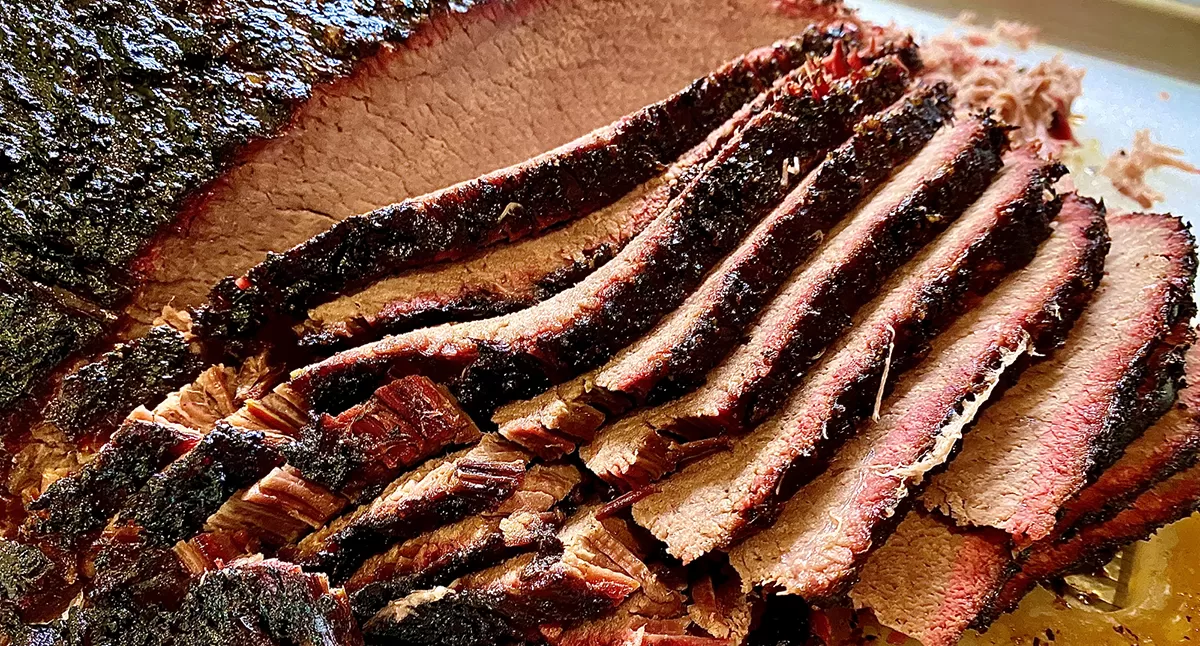 Ingredients:
12 – 15 pound packer brisket, flat and point
1/4 cup extra virgin olive oil
1/2 cup Silver Spring Yellow Mustard
1 bottle Silver Spring Applewood Smoke Flavored Horseradish
1 cup beef rub

coarse pepper, kosher salt, granulated garlic and/or your choice of seasonings

EQUIPMENT

Butcher Paper
Long Tongs
Two Zone Thermometer
Instant read Thermometer
Directions:
The day before cooking, trim the excess fat off the brisket, apply olive oil & Silver Spring Yellow Mustard. In a separate bowl, combine your dry rub ingredients, and liberally apply to the brisket. Leave in fridge overnight prior to cooking.
The day of cooking, preheat your smoker to 250 degrees F, using a nice fruit wood like apple or cherry. Place brisket on the smoker (using large tongs) when the temperature is a consistent 250 degrees and insert your two zone meat probes. One for the meat inserted into the flat, and one to monitor the ambient temperature of the cooking chamber.



When the internal temperature of the brisket is 165 degrees you will carefully remove the brisket and place onto two pieces of butcher paper to wrap. Remove the meat probe, tightly wrap the brisket, and then add the meat probe back into the same general area. Place back into the smoker.



Continue cooking at 250 degrees for another several hours until the brisket approaches 195 degrees. At that point, you will use your instant read thermometer to insert and probe the flat and the point for that smooth buttery texture as you check for doneness. Anywhere from 195 to 205 it may be done.



Remove, still wrapped and rest for 30 minutes. Slice against the grains and serve with Silver Spring Applewood Smoke Flavored Horseradish.
Comments about Smoked Brisket:
Be the first to comment on this recipe! Click the "write a review" button above.