Add a comment: Horseradish Matzo Ball Soup
Soups & Sandwiches
Horseradish Matzo Ball Soup
Recipe courtesy of NYT Cooking at cooking.nytimes.com
Prep

30min

Total

3hr 30min

Servings

8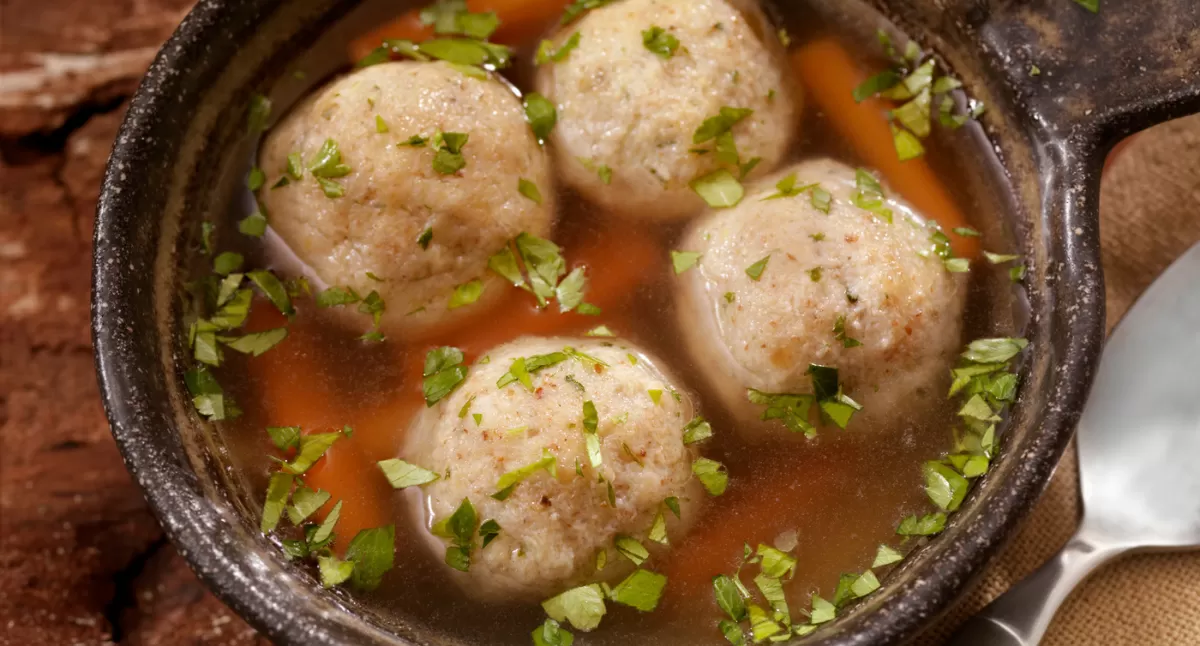 Ingredients:
1 (4½- to 5-pound) chicken
2 large onions, peeled and quartered
2 celery stalks, cut into chunks
3 medium carrots, peeled
2 medium parsnips, peeled
3 garlic cloves, smashed and peeled
1 tablespoon plus 1 teaspoon kosher salt, more as needed
1 small bunch parsley, chopped leaves reserved for garnish
1 small bunch dill, chopped leaves reserved for garnish
4 thyme branches
2 bay leaves
5 peppercorns
3 whole cloves
4 large eggs, lightly beaten
¼ cup extra-virgin olive oil
1 cup matzo meal
3 tablespoons Silver Spring Prepared Horseradish
¼ teaspoon allspice
¼ teaspoon ground black pepper
Directions:
In a large pot, combine chicken, onions, celery, 2 carrots, 1 parsnip, garlic, 1 tablespoon salt, parsley stems (reserve leaves), dill stems (reserve leaves), thyme branches, bay leaves, peppercorns and cloves. Add enough water to cover everything by 1 inch.

Bring liquid to a boil over medium-high heat. Reduce heat to medium-low and simmer gently for 2 hours. Skim foam and fat frequently with a slotted spoon.
While the stock simmers, prepare the matzo ball mixture. In a large bowl, stir together the eggs, oil, ¼ cup reserved broth, matzo meal, Silver Spring Prepared Horseradish, allspice, ground pepper and 1 teaspoon salt. Cover with plastic wrap and refrigerate 2 to 3 hours.
Strain stock through a fine-mesh sieve into a large bowl (you should have about 2½ quarts) and set aside to cool. Reserve chicken for another purpose; discard vegetables. Broth can be made up to three days ahead and refrigerated.
Bring a large, wide pot of salted water to a boil. Using water-moistened hands, roll the matzo ball mixture into 1½-inch balls. Use a slotted spoon to lower into the boiling water; reduce heat and simmer matzo balls until very tender, about 50 minutes to 1 hour.
Put reserved chicken broth in a pot, bring to a simmer, and season with more salt and pepper if necessary. Thinly slice the remaining carrot and parsnip. Add the vegetables to the broth and cook until just tender, 10 to 15 minutes.
Spoon a few matzo balls into the bottom of each serving bowl and ladle hot broth and vegetables on top. Garnish with parsley and dill.
Recipe courtesy of NYT Cooking at cooking.nytimes.com
Comments about Horseradish Matzo Ball Soup:
Be the first to comment on this recipe! Click the "write a review" button above.