Add a comment: Steak and Horseradish Bites
Steak and Horseradish Bites
Recipe courtesy of Christie Vanover| Recipe and images created by Christie Vanover @girlscangrill
Prep

20min

Total

40min

Servings

5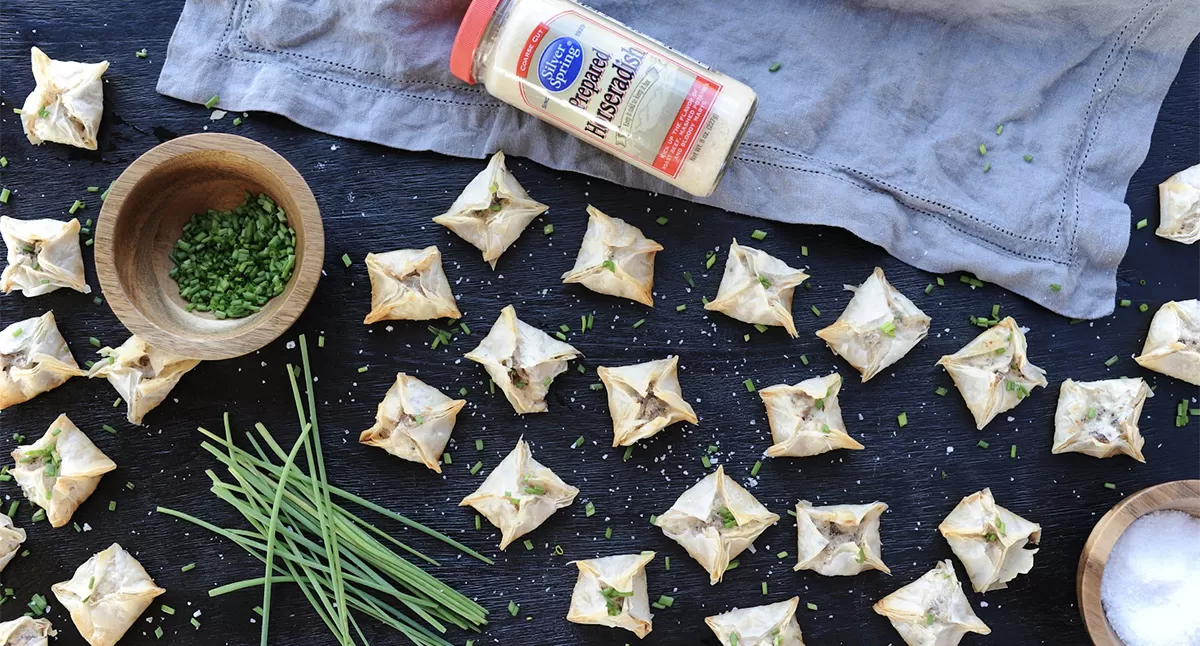 Ingredients:
1 cup grilled steak, diced
2 tbsp Silver Spring Foods Non-GMO or Prepared Horseradish
2 tbs sour cream
4 tbsp cream cheese
1/2 tsp garlic salt
1/4 tsp black pepper
3 sheets phyllo dough, thawed
4 tbsp melted butter
Directions:
Heat your smoker or grill to 375F degrees. Season a New York Strip with salt and pepper. Cook steak for a few minutes on each side to your desired temperature.
In a bowl, combine the horseradish, sour cream, cream cheese, garlic salt and pepper. Stir in the cooked steak.
Layer three sheets of phyllo dough, brushing each with melted butter as you go.
Use a 2.5-inch square cutter to cut 30 squares.
Place 1 teaspoon of filling onto the center of each square.
Bring the corners up to the center over the filling.
Pinch the sides and bottom corners to lock in the filling.
Place on a parchment-lined sheet pan.
Smoke or grill over indirect heat for 20 minutes, until golden.
Garnish with minced chives.
Serve and enjoy!
Recipe Courtesy of Christie Vanover (@girlscangrill)
Recipe also found: here
Comments about Steak and Horseradish Bites:
Be the first to comment on this recipe! Click the "write a review" button above.