Add a comment: Sweet Corn Planks
Sweet Corn Planks
Recipe courtesy of Chef Casey Anderson, ECGCC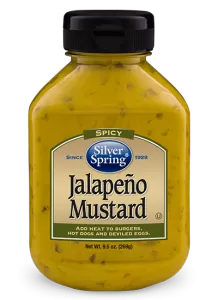 Prep

20min

Total

45min

Servings

4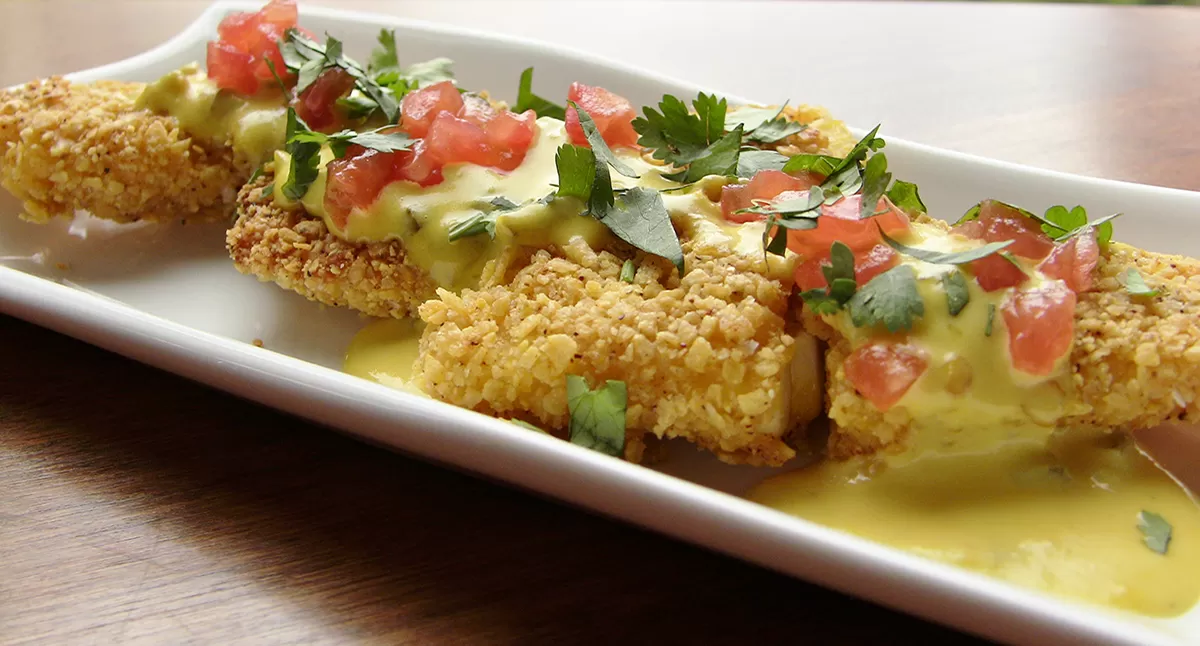 Ingredients:
Sweet Corn Planks w/Jalapeno Cream
2 ears sweet corn cooked and shocked
Combine and mix well:
Tortilla Breading-2 cups yellow corn Tortilla's processed into crumb (8 ounces hard shell tacos work well)
1 teaspoon kosher salt
1 teaspoon chili powder
1 teaspoon onion powder
1/2 teaspoon garlic powder
1/2 teaspoon ground cumin
Pinch of cayenne pepper
Egg Wash-Beat together
2 beaten eggs
1/4 cup buttermilk
2 tablespoons Silver Spring™ Jalapeno Mustard
Dredging Mix: Combine and mix well
3/4 cup corn starch
1 teaspoon old bay seasonings
Sauce
1/2 cup heavy cream
1/4 cup fresh squeezed orange juice
Juice of 1 lime
2 tablespoons roasted Poblano peppers, peeled & diced fine
2 tablespoons Silver Spring™ Jalapeno Mustard
1/4 cup chopped cilantro
1/4 cup fine diced tomato
Clarified butter as needed (approximately 3/4 cup)
Directions:
Cut ears of cooked and shocked corn in half. Slice 4 sections from each half ear of corn cutting as close to the cob as possible, approximately 1"x 2" solid pieces. Arrange the 16 – 1"x 2" planks of corn on a sheet tray lined with parchment paper. Place in freezer until firm. While corn planks are in freezer, prepare 3-step breading station. Place dredging ingredients on a shallow pan (a cake pan works well). Next, place egg wash in a shallow pan. Finally, place one-half tortilla breading in shallow pan reserving remaining breading.
Remove corn planks from freezer. Using an offset spatula and working in small batches transfer planks to corn meal mixture and coat. Transfer planks to egg wash and coat. Place planks in tortilla crumb and cover with reserved crumb mixture until coated. Transfer breaded planks to a sheet pan and continue breading remaining planks.
In a non-stick pan over medium high heat, add enough butter to cover the surface of pan 1/8" deep. When butter is hot, place planks kernel side down in butter, being careful not to crowd pan. Brown planks on both sides and transfer to a pan line with a paper towel. Continue browning planks wiping out pan between each batch and adding new butter.
When all planks are browned, place in a warm oven (150°) to hold until service. Prepare sauce by adding orange juice to a non-stick pan and heating over medium high heat. Add Poblano peppers and lime juice. Reduce until liquid is almost evaporated. Add cream and continue simmering until it reaches sauce consistency. Stir in jalapeño mustard and remove from heat. Adjust seasonings to taste.
To plate, place four planks on appropriate size plate and coat with sauce. Garnish with diced tomato and cilantro.
Comments about Sweet Corn Planks:
Be the first to comment on this recipe! Click the "write a review" button above.