Flavor Profile
A creamy texture with a bright and spicy wasabi bite.
+ +
Pairs well with…
Grilled or baked fish
Scrambled eggs
Fish tacos
Roast beef sandwich
Avocado
Sushi is just the beginning for the fiery blast of hot wasabi. Spread this creamy version of classic wasabi on everything from baked fish to roast beef sandwiches for an added spark of heat and flavor. Gluten-Free product from Silver Spring.
Water, Soybean Oil, Root Blend (Horseradish and Wasabi), Distilled Vinegar, Sugar, Food Starch, Egg Yolks, Natural Flavors, Mustard Flour, Salt, Lemon Juice Concentrate, Spices, Vitamin E, Yellow 5, Blue 1. CONTAINS: EGG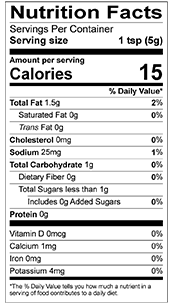 Hot Cinnamon Orange Cider
Mediterranean Halibut Tango
Heat things up!
Homemade Cocktail Sauce
Mix Horseradish + Ketchup
for a quick shrimp dip.
Find Recipe Here