Add a comment: Cranberry Walnut Sweet Potatoes
Cranberry Walnut Sweet Potatoes
Recipe courtesy of Taste of Home
Prep

20min

Total

1hr 30min

Servings

8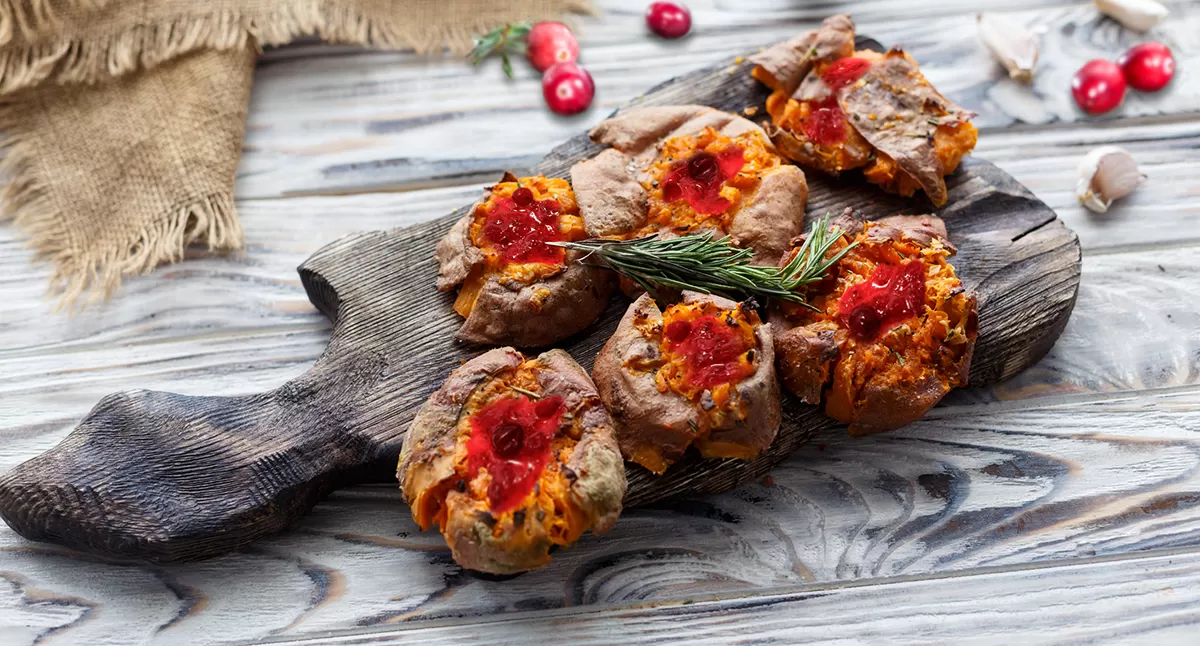 Ingredients:
4 large Sweet Potatoes
2 tbsp Silver Spring Cranberry Horseradish
1 tsp Silver Spring Dijon Mustard
1 tbsp Butter
1/4 cup Onion, finely chopped
1 cup Cranberries, fresh or frozen
1/3 cup Maple Syrup
1/4 cup Cranberry Juice
1/4 tsp Salt, divided
1/2 cup Walnuts, chopped & toasted
1/4 tsp Pepper
2 tbsp fresh Chives, minced
Directions:
Preheat oven to 400°
Scrub sweet potatoes; pierce several times with a fork. Bake 1 hour or until tender.
Meanwhile, in a small saucepan, heat butter over medium-high heat. Add onion; cook and stir until tender.
Stir in cranberries, syrup, cranberry juice and 1/8 teaspoon salt. Bring to a boil. Reduce heat; simmer, covered, 10-15 minutes or until berries pop, stirring occasionally.
Stir in walnuts, Silver Spring Cranberry Horseradish and Silver Spring Dijon Mustard; heat through.
When cool enough to handle, cut each potato lengthwise in half; sprinkle with pepper and remaining salt. Top with cranberry mixture; sprinkle with chives.
Cooking Note: To toast nuts, bake in a shallow pan in a 350° oven for 5-10 minutes or cook in a skillet over low heat until lightly browned, stirring occasionally.





Comments about Cranberry Walnut Sweet Potatoes:
Be the first to comment on this recipe! Click the "write a review" button above.