Flavor Profile
A tangy and full-bodied dijon with a creamy, smooth texture.
+ +
Pairs well with…
Chicken
Salmon
Sandwiches
Vinaigrette
Reminiscent of the original recipes of Dijon, France, our spin on Dijon Mustard blends the flavors of white wine and mustard seed into a gourmet spark for any meal. The smooth creamy texture makes our Dijon Mustard perfect to spread freely as a condiment or mix boldly as an ingredient. Gluten-Free product from Silver Spring.

FIND US AT: INSTACART
Vinegar, Water, Mustard Seed, White Wine, Salt, Citric Acid, Tartaric Acid, Turmeric, Spices. Does not contain U.S. recognized allergens.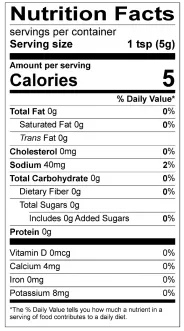 Chickpea, Feta, and Herb-Stuffed Peppers
Cranberry Horseradish Pulled Pork
Cranberry Horseradish Vinaigrette
Cranberry Walnut Sweet Potatoes
Dijon Crusted Rack of Lamb
Dijon Shrimp Scampi over Fresh Asparagus
G.O.A.T Pigs in a Blanket
Grilled Honey Mustard Chicken
Herb-Crusted Beef Tenderloin with Horseradish Sauce
Historical Ham Croquettes with Tomato Horseradish Sauce
Honey Dijon Grilled Chicken
Honey Mustard Chicken Salad
Honey Mustard Grilled Chicken
Honey-LESS Mustard Grilled Chicken Platter (Whole30)
Horseradish Dijon Mustard Dip
Horseradish Mustard Burger
Keto - Egg Roll in a Bowl
Lemon Dill Horseradish Sauce
One Sheet Salmon with Honey Mustard & Green Beans
Peter's Bloody Mary Recipe
Quinoa Salad with Lemon Dijon Vinaigrette
Roast Beef & Horseradish Dijon Cream Cheese Crackers
Salad with Honey Dijon Vinaigrette
Salmon and Watercress Salad with Lemony Horseradish Vinaigrette
Secret Ingredient Salted Caramels
Stone Ground Pretzel Stuffing
Sweet and Sassy Turkey Marinade
Turkey Cranberry Sliders with Cheese