Add a comment: Honey-LESS Mustard Grilled Chicken Platter (Whole30)
Honey-LESS Mustard Grilled Chicken Platter (Whole30)
Recipe courtesy of cookathomemom.com | Recipe and photo created by Laura Miner of Cook at Home Mom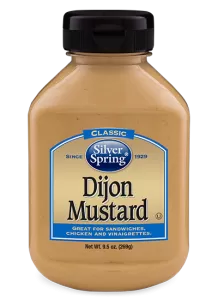 Prep

30min

Total

45min

Servings

4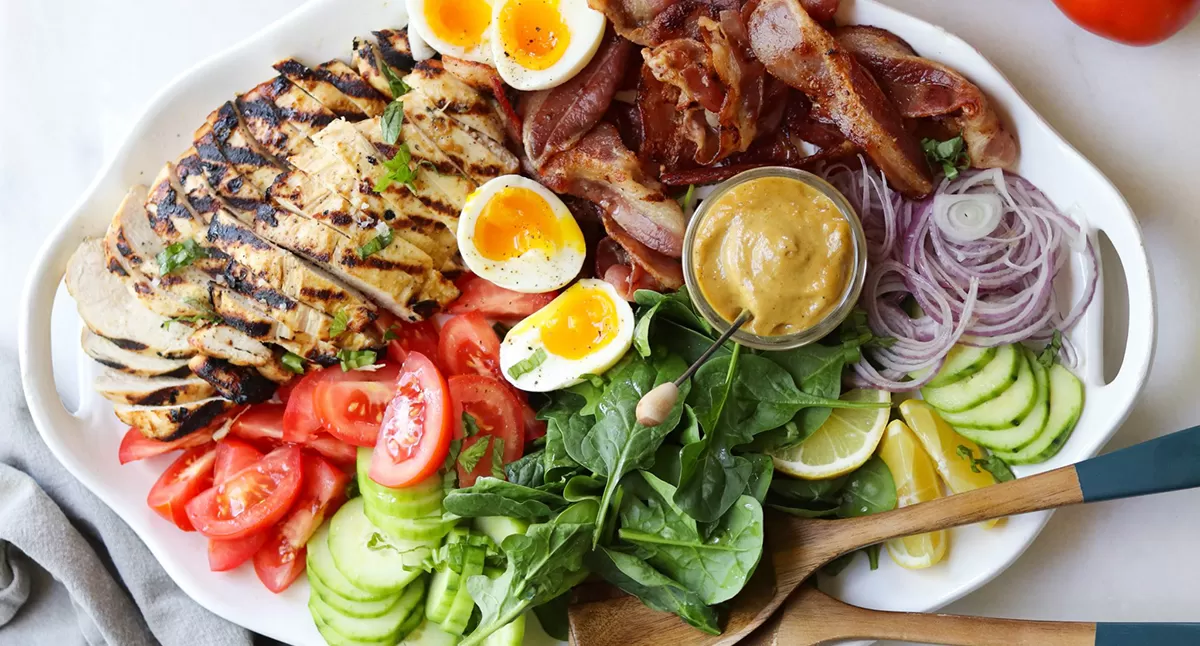 Ingredients:
Party Platter
2 lb. chicken breasts
2-4 eggs
10 oz. nitrate-free and sugar-free bacon
4-6 cups baby spinach
2 medium tomatoes
1 cucumber
½ red onion
1 lemon
8-10 basil leaves
Salt and Pepper
Honey-Less Mustard Marinade
½ cup extra virgin olive oil
⅓ cup Silver Spring Foods Classic Dijon Mustard
½ cup dates
1 tsp. Apple cider vinegar
1 – 1 ½ tbsp lemon juice
¼ tsp. Salt
⅛ tsp. Black pepper
⅛ tsp. Garlic powder
⅛ tsp. Paprika
Directions:
Soak the dates in hot water for about 5 minutes, or until softened slightly. Drain the water.
Add Silver Spring Dijon Mustard, and all other ingredients to a high powered blender or food processor. Pulse until combined, then blend on high until smooth. Thin with water if necessary to get your desired texture.
Pour ¼ of the Honey-Less Mustard Marinade over the chicken, turning to coat. Cover and allow to marinate for at least 30 minutes or overnight.
Boil the eggs to your desired doneness. For Soft Boiled: Fill a small pot with cold water and salt it generously. Add the eggs carefully and turn the heat to medium-low. Bring the water to a simmer, then set the timer for 6 minutes. Remove and set in an ice bath until cooled enough to handle. For Hard Boiled: Follow the same instructions, but simmer for 10 minutes.
Add the bacon to a cold skillet. Turn the heat to medium, and cook the bacon until crispy, turning.
Preheat your grill to medium heat (about 400). Lightly oil the grill, then add the chicken breasts. Cook for about 15 minutes total, turning once halfway through. Allow the chicken to rest before slicing it.
As the chicken cooks, slice the tomatoes, cucumbers, herbs, and lemon.
Add all the ingredients to a large serving platter with the Honey-Less Mustard Marinade. Sprinkle with salt and pepper and torn basil leaves. Enjoy!





Comments about Honey-LESS Mustard Grilled Chicken Platter (Whole30):
Be the first to comment on this recipe! Click the "write a review" button above.