Add a comment: Holiday Crostini Trio
Holiday Crostini Trio
Recipe courtesy of Silver Spring Foods, Inc.
Prep

45min

Total

55min

Servings

10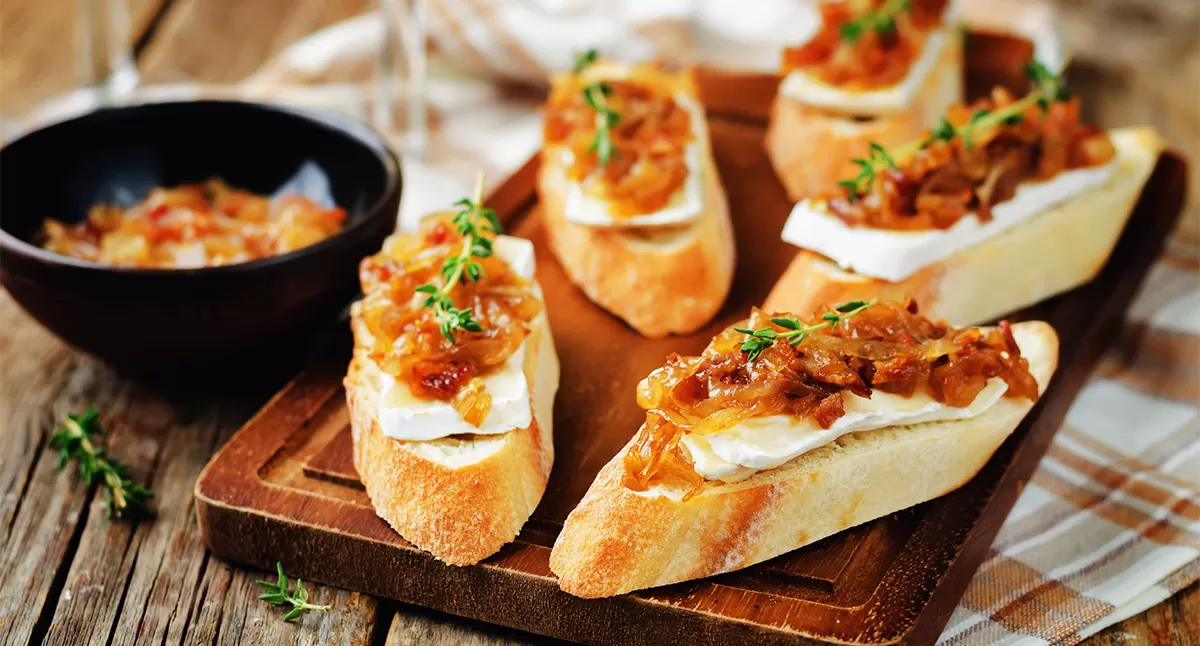 Ingredients:
For the Crostini

One large French baguette, sliced into ½ inch rounds
¼ cup olive oil
¼ cup butter
Prime Rib and Applewood Smoked Horseradish Crostini
½ lb thinly shaved leftover prime rib or seared ribeye (very rare)
¼ cup Silver Spring Applewood Smoked Horseradish
1 cup baby arugula
¼ packaged fried shallots (or French fried onions)
Brie and Cranberry Horseradish Crostini

4 oz Brie cheese
¼ cup Silver Spring Cranberry Horseradish
¼ cup toasted pecans
1 tsp shucked rosemary
Bacon and Caramelized Onion Jam Crostini with Whole Grain Mustard

½ lb bacon, diced
2 large sweet onions, thinly sliced
¼ cup brown sugar
¼ cup bourbon
2 tablespoons balsamic vinegar
1 teaspoon red pepper flakes
Salt and pepper to taste
¼ cup Silver Spring Whole Grain Mustard
Fresh thyme, for garnish
Directions:
Prep

Cook diced bacon in a large skillet over medium heat until fat renders and bacon begins to crisp. Remove bacon from the pan and set aside. Drain all but one tablespoon of the bacon fat.
Reduce heat to medium low and add the thinly sliced sweet onions. Stir occasionally until the onions are a deep golden brown.
Add the bacon back to the pan along with the bourbon, brown sugar, balsamic vinegar, and red pepper flakes. Cook over medium high heat until the mixture takes on a jam like consistency. Salt and pepper to taste and set aside.
Preheat oven to 425 degrees F. Melt butter and combine with olive oil, brush baguette rounds with the oil and butter mixture, par cook the crostini until lightly toasted, 5-6 minutes.
Remove the crostini from the oven and to 1/3 of them spoon on about a tablespoon of the bacon onion jam. Top 1/3 of the crostini with sliced brie, and to the other 1/3 add a small stack of shaved prime rib. Return the crostini to the 425 degree oven and warm for another minute or two. Transfer to a serving platter and finish assembly as follows.


Assembly and Serving
Finish the bacon and onion jam crostini with a teaspoon sized dollop of Silver Spring Whole Grain Mustard and a sprinkling of fresh thyme.
Finish each of the Brie crostini with 2 teaspoons of Silver Spring Cranberry Horseradish, chopped pecans, and rosemary leaves
Finish the prime rib crostini with a few baby arugula leaves, dollop with about a half teaspoon of Silver Spring Applewood Smoked Horseradish and sprinkle with fried shallots.
Serve & enjoy!
Comments about Holiday Crostini Trio:
Be the first to comment on this recipe! Click the "write a review" button above.