Add a comment: Beet Horseradish Cured Salmon
Main Course
Beet Horseradish Cured Salmon
Recipe courtesy of Silver Spring Foods, Inc.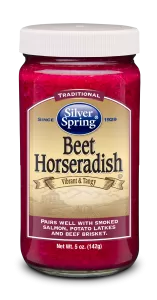 Prep

10min

Total

30min

Servings

4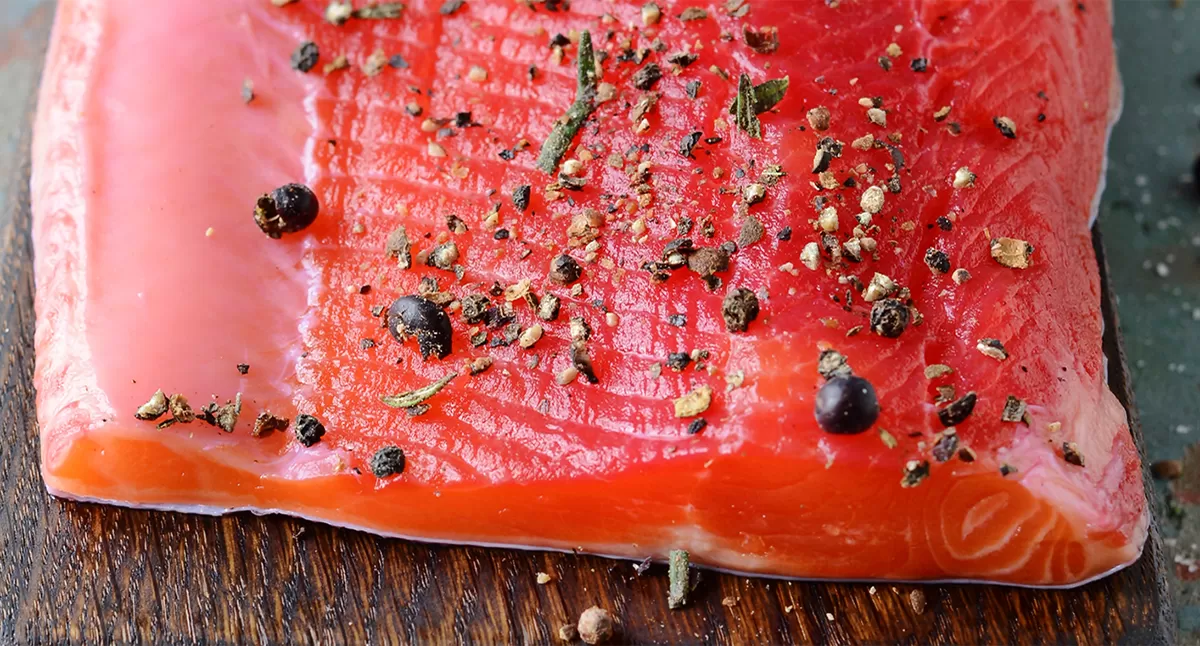 Ingredients:
2 cups of kosher salt
1 cup of sugar
1 large beet, grated
1 Tbsp Silver Spring Beet Horseradish
1 large (about 2 lbs) fresh caught salmon fillet
fresh dill, garnish
Directions:
In a medium bowl, mix together our Silver Spring Beet Horseradish, kosher salt, sugar and beet.
On a sheet tray, smash a layer of the beet mixture in a shape that is roughly the same shape as your salmon fillet. Place the fillet on top of the beet mixture on the tray, skin side down. Take another handful or two of the beet mixture and spread it all over the top and sides of the salmon fillet. Make sure the fillet is covered evenly. You'll notice that liquid in the fish will begin to seep out, which is normal.
Cover tray loosely with plastic wrap and set in the refrigerator for 8-24 hours, turing halfway through. The length of time that it rests in the refrigerator is dependent on the size of the fillet, larger sizes require longer. The longer it cures, the more flavor and color will infuse into it, but do not cure for more than 24 hours.
Remove from the refrigerator and rinse the fillet under cold water. Pat dry with paper towels. Set the rinsed fillet on a wire rack over a baking sheet and place it back in the refrigerator, uncovered, for 1-2 hours. This will improve the overall texture of the finished salmon.
Preheat the oven to 425 degrees. Place the wire baking rack with the fillet onto a sheet pan covered with foil. Bake for 15-18 minutes until completely cooked through. Remove fillet from the pan and serve with a dollop of Beet Horseradish and the thyme. Enjoy!





Comments about Beet Horseradish Cured Salmon:
Be the first to comment on this recipe! Click the "write a review" button above.