Add a comment: Holiday Brisket with Prepared Horseradish
Main Course
Holiday Brisket with Prepared Horseradish
Recipe courtesy of Tori Avey of toriavey.com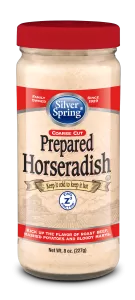 Prep

45min

Total

7hr 45min

Servings

12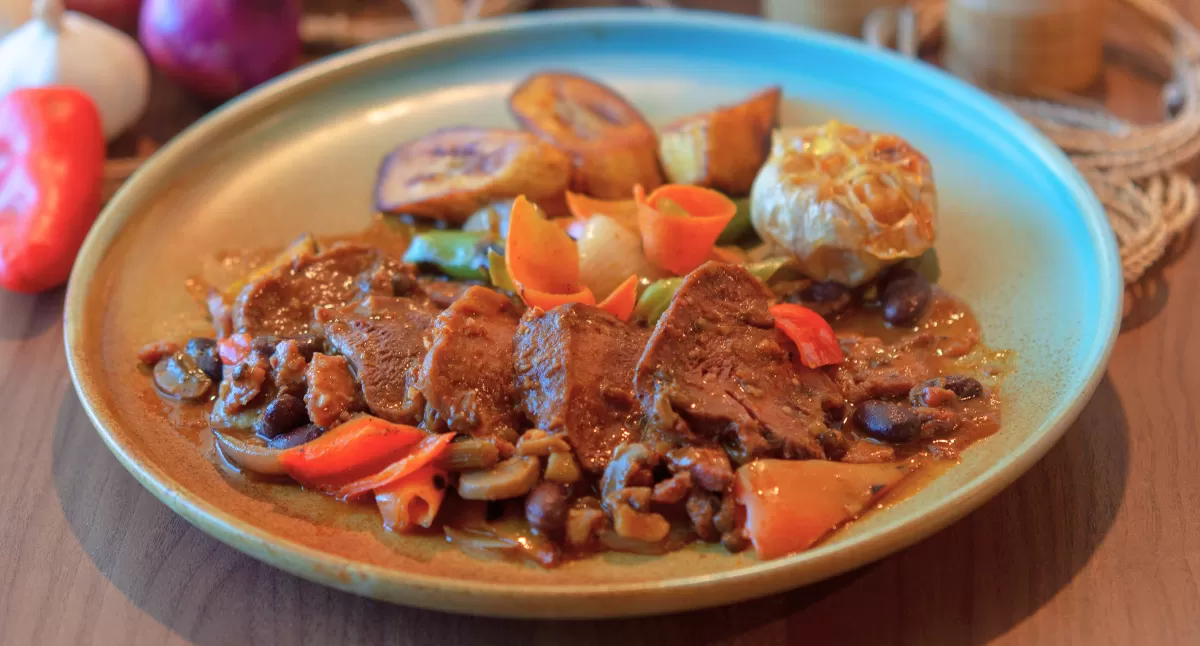 Ingredients:
5-7 pounds of brisket (no need to trim fat)
1/4 cup extra virgin olive oil
2 large brown onions (peeled and sliced)
1 pound of carrots (peeled and sliced)
1 pound of celery (peeled and sliced)
1 large can (28 oz) of whole, diced, or crushed tomatoes
10 garlic cloves (peeled)
1/2 cup brown sugar
1/4 cup vinegar
2 cups beef or chicken broth
Silver Spring Prepared Horseradish
salt and pepper to taste
Directions:
Preheat oven to 300 degrees F. Rinse brisket and blot it dry. Coat sides in salt and pepper.
Over medium flame, add 2 tbsp of olive oil into large skillet. Brown brisket on both sides (4-5 minutes each side).
While brisket is in skillet, combine canned tomatoes, garlic, brown sugar, vinegar, and 1½ cups of broth to blender or food processor. Add salt and pepper to taste. Pulse ingredients until everything is combined and garlic is chopped small.
After removing the brisket, add 2 more tbsp of olive oil to skillet and add sliced onions. Saute over meduim high heat until they soften and shrink.
Add carrot and celery slices and continue to saute for another 5-6 minutes.
Transfer vegetables from skillet to a plate and set aside. Add ½ cup of stock into skillet, gently scraping bottom of skillet to release flavor from vegetables. Turn off heat.
Pour half of tomato mixture into large roasting pan. Add brisket to pan, fat cap facing upward. Pour vegetables on top of brisket, along with broth.
Add remaining tomato sauce over top of veggies and brisket.
Cover roasting pan with a layer of parchment paper then a layer of foil.
Let brisket cook in oven for 5-7 hours. Tip: You can tell when it's ready because it will flake tenderly when pierced with a fork.
Once fully cooked, set brisket on a cutting board (fat-side up) for 20-30 minutes. While brisket is resting, pour sauce from roasting pan into smaller saucepan. Remove fat from surface of sauce and reheat until sauce is hot, but not boiling.
Slice fat cap off of brisket, then cut brisket into thin slices against the grain. When ready to serve, top brisket slice with tomato sauce, sauted veggies, and Silver Spring Prepared Horseradish.
Recipe courtesy of Tori Avey of toriavey.com.
Comments about Holiday Brisket with Prepared Horseradish:
Be the first to comment on this recipe! Click the "write a review" button above.