Add a comment: Lazy Girl Latkes with Beetroot and Horseradish Sour Cream
Main Course
Lazy Girl Latkes with Beetroot and Horseradish Sour Cream
Recipe courtesy of Silver Spring Foods, Inc.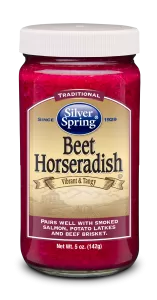 Prep

10min

Total

45min

Servings

8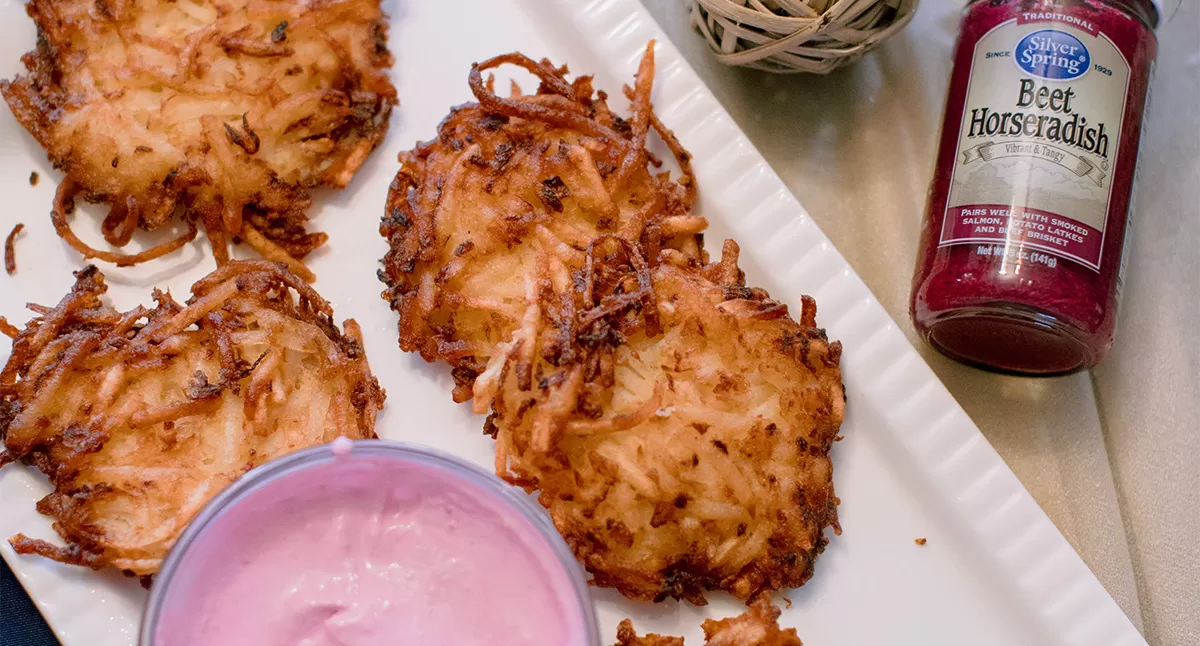 Ingredients:
1- 1lb pack of refrigerated shredded hash browns
1 large egg
1 large yellow or white onion
1 TBLS potato or corn starch
2 TBLS matzo meal
½ teaspoon paprika
¼ teaspoon cayenne pepper
¼ teaspoon garlic powder
¼ teaspoon dry mustard
Salt and pepper to taste
Canola or vegetable oil for frying
1 cup sour cream
1-2 TBLS Silver Spring Beet Horseradish
Directions:
Watch our delicious Video Here!
Stir Silver Spring Beet Horseradish into the sour cream and refrigerate until ready to serve.
Grate onion and dab with paper towels to remove excess liquid.
Combine hash browns, grated onion, eggs, spices, starch, and matzo meal. Mix well to incorporate ingredients.
Pour at least a ½ inch of oil into a large skillet and place over a medium high heat.
Form latke mixture into 2" diameter patties, about ¼" thick. Fry the latkes in batches, 3-4 minutes per side or until golden brown.
Using a slotted spatula, transfer lakes from the hot oil to a drying rack or plate lined with paper towels to remove excess oil. Sprinkle with kosher salt immediately after removing from the oil.
Serve with Beet Horseradish Sour Cream
Comments about Lazy Girl Latkes with Beetroot and Horseradish Sour Cream:
Be the first to comment on this recipe! Click the "write a review" button above.