Add a comment: Honey Mustard Chicken Salad
Salads & Dressings
Honey Mustard Chicken Salad
Recipe courtesy of Silver Spring Foods, Inc.
Prep

20min

Total

45min

Servings

4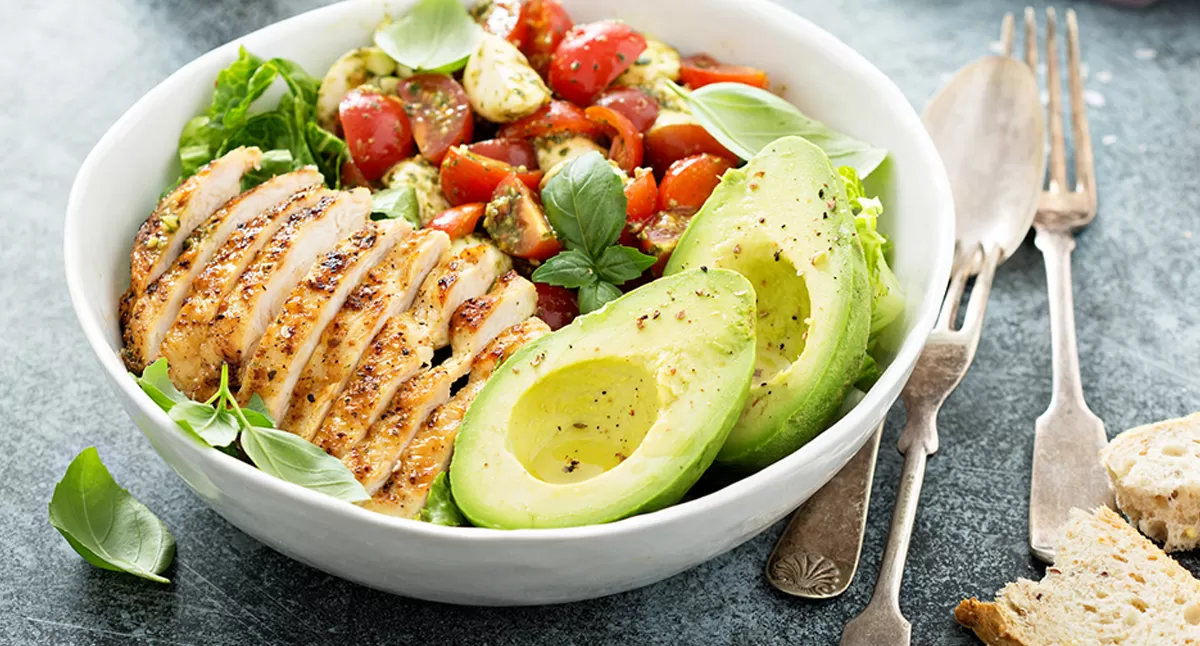 Ingredients:
4 boneless/skinless chicken breasts
Vinaigrette/Marinade:
1/3 cup honey
3 tablespoons Silver Spring Dijon Mustard
3 tablespoons Silver Spring Whole Grain Mustard (optional)
2 tablespoons grapeseed oil
1 teaspoon minced garlic
Salt & Pepper
Salad:
1/4 cup diced turkey bacon
4 cups Romaine lettuce, washed
1 cup sliced cherry tomatoes
1 avocado, pitted and sliced
1/4 cup corn kernels
Directions:
Preheat the oven to 425F.
Whisk together all vinaigrette ingredients except the oil. After all vinaigrette ingredients are combined, slowly add oil while whisking, until combined well. If needed, adjust seasonings.
Using a kitchen mallet, pound out all 4 chicken breasts to be relatively the same thickness. This will help them to cook evenly. Pour 1/2 the vinaigrette marinade over the chicken in a large plastic zip lock bag and keep the extra vinaigrette chilled. Work the bag until the chicken is coated with the marinade. Marinate the chicken for 2 to 24 hours, turning the bag occasionally.
Cover a sheet pan with tinfoil to help with easy clean-up. Place the turkey bacon on a baking rack, inside of the foil-lined sheet pan. Cook the bacon for 12-17 minutes, depending on the doneness you want your bacon. Set aside and let cool. Cut into 1/2 inch pieces while the chicken is cooking. If you want the bacon to be crisped up more, you can fry pieces in the skillet after the chicken is done cooking.
Warm a skillet to medium heat and spray with cooking spray. Grill chicken breasts to golden brown on each side, about roughly 7-8 minutes. Check to make sure it's cooked through, and no pink color is left in the middle.
Place your romaine in the bottom of your salad bowl. Add your other salad ingredients and chopped chicken slices. Pour the remaining dressing over the salad. Enjoy!
Comments about Honey Mustard Chicken Salad:
Be the first to comment on this recipe! Click the "write a review" button above.