Add a comment: Applewood Bacon French Dip Burger
Soups & Sandwiches
Applewood Bacon French Dip Burger
Recipe courtesy of Milwaukee Burger Co.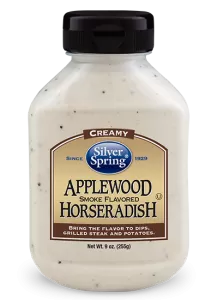 Prep

30min

Total

1hr -

Servings

4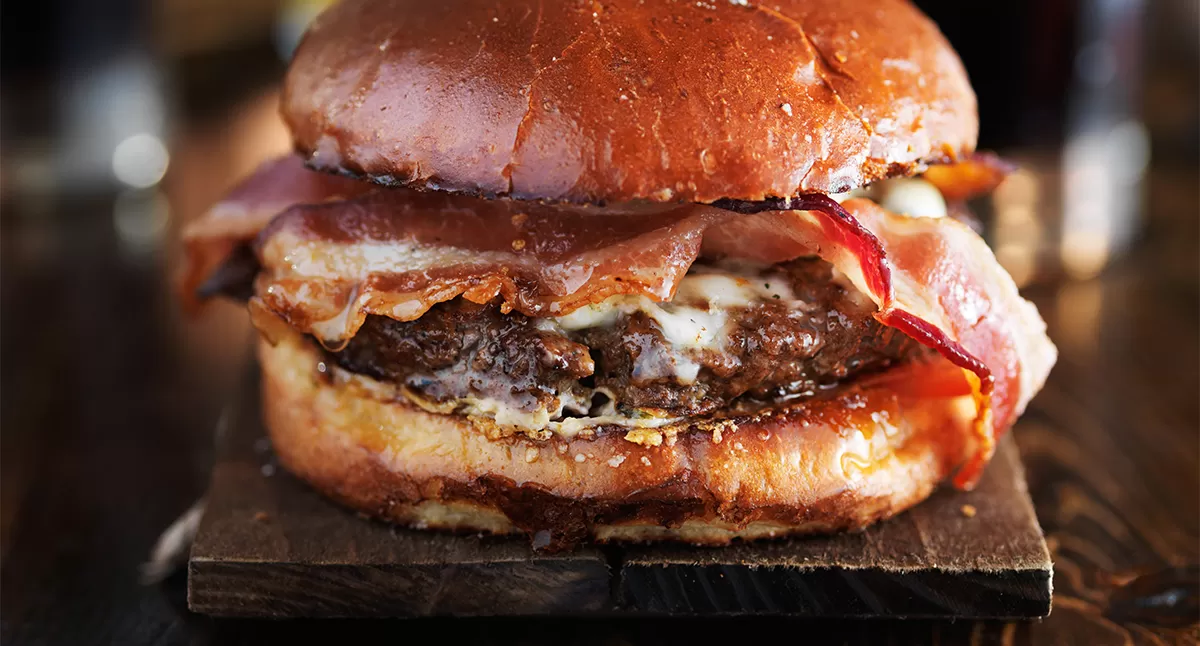 Ingredients:
For Burger:
4 hamburger buns
1 lb 100% angus ground beef
4 slices swiss cheese
1 package applewood smoked flavored bacon
2 6oz seared steaks, sliced thinly

For Applewood Horseradish French Dip:

1/4 yellow onion, thinly sliced
2 cloves garlic, minced
2 tsp. minced fresh thyme
1 1/2 c. low-sodium beef broth
2 tsp. Worcestershire sauce
2 tsp. Silver Spring Applewood Horseradish Sauce
For Onion Strings:

2 large onions, sliced thinly
2 cups buttermilk
2 cups all purpose flour
1 tablespoon salt
1 tablespoon black pepper
Canola oil, for frying
Directions:
For Burger:

Cook the burger, steaks, and bacon as desired on a grill or pan. Toast bun slices. Set aside.



For Applewood Horseradish French Dip:


Add oil to a pan and turn on to medium heat.
Add diced onion and cook until soft, 3 minutes.
Add garlic and thyme and cook until fragrant, 1 minute longer.
Stir together beef broth, Worcestershire sauce, and Applewood Horseradish Sauce and bring up to a simmer. Cook until thickened slightly, 8 to 10 minutes more.
For Onion Strings:


Peel the onions and slice very thin, use a mandoline slicer if you can.
Separate the onion slices and place them in a shallow baking dish.
Pour the buttermilk over the top. Press the onions down so they're submerged as much as possible and let them soak on the counter for at least an hour. Stir them around halfway through the soaking process.
In a bowl, combine the flour, salt, black pepper and set aside.
Pour 1 to 2 quarts canola oil in a pot. Heat to 375 degrees F, or until a pinch of flour sizzles when sprinkled over the pot.
Using tongs, remove a handful of onions from the buttermilk and immediately dunk into the flour mixture. Coat the onions in the flour mixture, and then tap them on the inside of the bowl to shake off the excess.
Drop the onions in the hot oil and cook for 1-2 minutes.
Remove from oil when golden brown and place on a paper towel-lined plate.
Repeat with the remaining onion slices and set aside when done.
To assemble Applewood Bacon French Dip Burger:


Stack burger, swiss cheese, thinly sliced steak, bacon, and onion strings on top of the toasted bun.
Pour french dip in a side dipping dish.
Serve and enjoy!
Comments about Applewood Bacon French Dip Burger:
Be the first to comment on this recipe! Click the "write a review" button above.