Add a comment: Tailgate Smorgasbord with 5 Zesty Appetizers
Tailgate Smorgasbord with 5 Zesty Appetizers
Recipe courtesy of sweetsavant.com | Recipe and photo created by Demetra Overton of Sweet Savant
Prep

45min

Total

45min

Servings

10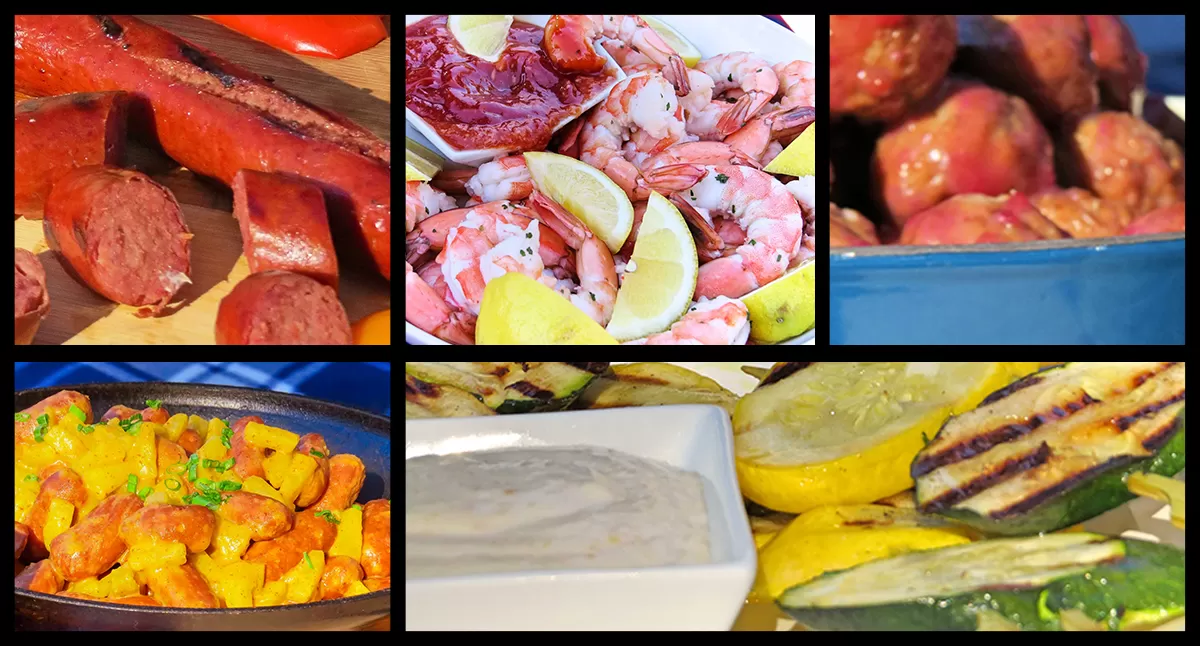 Ingredients:
Silver Spring Beer'n Brat Mustard Sausages with Pineapple
Silver Spring Sassy Grilled Vegetables
Silver Spring Applewood Kielbasa
Silver Spring Cranberry Horseradish Meatballs
Silver Spring Prepared Horseradish Shrimp Cocktail
Directions:
For a tasty hot and sweet flavor combination just simmer two packages of mini sausages with one cup of pineapple tidbits and 1/4 cup of Beer'n Brat mustard.
For the veggie lovers in your life grill up some zucchini and squash then serve them up with some Silver Spring Horseradish Sauce. Just drizzle the vegetables with a bit of oil and toss with salt and pepper. Grill until tender and serve with some SASSY horseradish sauce. Try grilling sweet peppers and carrots as well.
While the grill is on you should toss on a couple of links of kielbasa because…well why not! That's another easy way to feed hungry guests. Don't forget to serve it with some Silver Spring Applewood Creamy Horseradish to enhance the smoke flavor.
Cook up a batch of your favorite meatball recipe (or buy some frozen meatballs, I won't tell) then toss them in some Cranberry Horseradish for a tangy, tasty treat. You can make your meatballs with any kind of meat- beef, pork, turkey, chicken, even salmon and meatless "meatballs" would be delicious with a kick of cranberry.
Chilled shrimp cocktail is the perfect make ahead tailgating recipe for seafood lovers. Make it easy on yourself and buy the shrimp already cooked or poach and chill your own. Make a simple cocktail sauce by mixing 2 tablespoons of prepared horseradish, 1 cup of ketchup and 1 teaspoon of lemon juice.
Comments about Tailgate Smorgasbord with 5 Zesty Appetizers:
Be the first to comment on this recipe! Click the "write a review" button above.