Flavor Profile
A rich, chunky texture with a zesty tomato bite finished with a subtle but punchy horseradish flavor.
+
Pairs well with…
Steamed shrimp
Oysters
Crab cakes
Fried clam strips
Bloody Marys
We believe delicious seafood deserves more than fancy ketchup. Our Seafood Cocktail Sauce starts with zesty tomato paste and adds fresh ground horseradish from our farm to create the signature bold bite of the enhancing cocktail sauce flavor. Our unique cold-fill process helps preserve the heat and freshness without compromising the quality of your ocean favorites. Our shrimp sauce is the perfect condiment for not just shrimp, but all seafood. Gluten-Free product from Silver Spring.
Tomato Paste, Water, Distilled Vinegar, Sugar, Horseradish, Salt, Lemon Juice Concentrate, Soybean Oil, Beet Powder, Xanthan Gum, Natural Flavor.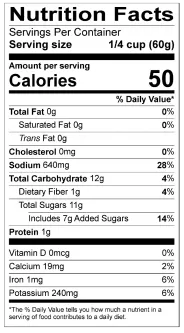 Bacon Wrapped Meatloaf Balls
Cocktail Meatball Sandwiches
Grilled Seafood Personal Pizza
Shrimp Platter with Cocktail Sauce
Western Omelet with Silver Spring Cocktail Sauce
Honey Mustard Dipping Sauce with Stone Ground
A quick, easy dip that's full of flavor! Perfect for snacks, dinner or entertaining.
See Recipe