Flavor Profile
A tangy yellow mustard with the spicy heat and rich flavor of Jalapeño peppers.
+ +
Pairs well with…
Hamburgers
Potato salad
Hot dogs or corn dogs
Cuban sandwiches
Pretzels
Jalapeño peppers are known for their distinctive flavor as much as their seductive heat. We've captured both in our memorable Jalapeño Mustard that will leave you looking for ways to use it in all your meals. Gluten-Free product from Silver Spring.

FIND US AT: INSTACART
Vinegar, Water, Jalapeno Peppers, Mustard Seed, Salt, Turmeric, Fruit & Vegetable Juice for Color, Ascorbic Acid.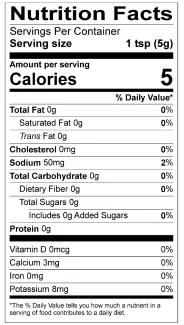 Creamy Jalapeno Mac and Cheese
Grilled Buffalo Blue Cheese-Stuffed Chicken Breasts
Shrimp with Spicy Mustard Lime Dipping Sauce
Spicy Jalapeno Potato Salad
Spicy Jalapeno Sloppy Joes
Spicy Mustard Chicken Salad