Flavor Profile
Creamy and spicy with savory ranch and smoky chipotle peppers.
+ +
Pairs well with…
Raw Veggies (Crudités)
Chicken Tenders
Fried Zucchini
Quesadilla
Pizza
Baked Potato
Our new Chipotle Ranch is a delicious blend of bold flavors to bring excitement to your favorite foods; particularly the foods you love with traditional ranch. Spice up a BBQ chicken salad, top potato skins or use it as an ingredient. It's always an occasion with Silver Spring's Chipotle Ranch. Gluten-Free product from Silver Spring.
Water, Soybean Oil, Chipotle Peppers, Tomato Paste, Sugar, Vinegar, EggYolks, Whole Eggs, Sweet Cream Buttermilk, Food Starch, Salt, Spices, Natural Flavor,Lactic Acid, Dehydrated Onion and Garlic, Xanthan Gum, Phosphoric Acid, SodiumBenzoate and Potassium Sorbate (used as preservatives) and Calcium Disodium EDTA(to protect Quality). CONTAINS: EGG, MILK.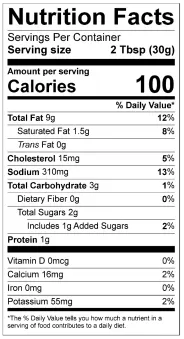 Chicken and Veggie Wraps with Chipotle Ranch
Chipotle Ground Beef Stuffed Mini Sweet Peppers
Chipotle Ranch Panko Fried Zucchini
Chipotle Ranch Potato Salad
Chipotle Ranch Tater Tots
Cilantro Lime Chicken Salad with Chipotle Ranch Dressing
Crunchy Chipotle Ranch Chicken with Potatoes
Grilled Veggie, Black Bean and Quinoa Tacos
Honey Mustard Dipping Sauce with Stone Ground
A quick, easy dip that's full of flavor! Perfect for snacks, dinner or entertaining.
See Recipe