Flavor Profile
Creamy and tart with the strong heat of horseradish.
+ +
Pairs well with…
Roast beef sandwiches
Crab, tuna or chicken salad
Baked potatoes
Hamburgers
Raw or steamed vegetables
Our horseradish sauce can be described with one word: sassy! It has the sinus-clearing effects of our prepared horseradish, but it's milder and creamier. The smooth consistency of this horseradish sauce makes it perfect for spreading on sandwiches and blending into other sauces. It's delicious on roast beef and other meats. And you can dip your raw veggies into it for a slightly tart zing that makes healthy snacking easier and more enjoyable. Add a few fresh herbs to tailor the taste to suit whatever meal is on your plate. This versatile horseradish sauce might just become the most-loved condiment in your fridge! Gluten-Free product from Silver Spring.
9.25 oz. Product - Water, Soybean Oil, Horseradish, Distilled Vinegar, Sugar, Food Starch, Salt, Egg Yolks, Mustard Flour, Natural Flavor, Lemon Juice Concentrate, Vitamin E, Xanthan Gum, Paprika, Spices. CONTAINS: EGGS
Gallon Product - Water, Soybean Oil, Horseradish, Distilled Vinegar, High Fructose Corn Syrup, Cornstarch, Sugar, Salt, Egg Yolks, Mustard Flour, Artificial Flavor, Lemon Juice Concentrate, Xanthan Gum, Calcium Disodium EDTA (to protect color & flavor), Paprika, Spices. CONTAINS: EGGS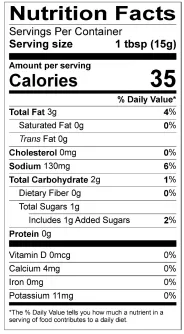 All-American Cheesesteak Sandwich with Horseradish Sauce
BLTs with Horseradish Sauce
Creamy Horseradish Potato Salad
Dill-Horseradish Veggie Dip
Easy Creamy Horseradish Dip
Grilled Brat Tacos with Lime Horseradish Slaw
Herb-Crusted Beef Tenderloin with Horseradish Sauce
Honey Horseradish Sheet Pan Chicken and Veggies
Horseradish Balsamic Vinaigrette
Horseradish Tarragon Sauce
Lemon Dill Horseradish Sauce
Peach Jalapeno Salsa Hotdogs
Spicy Horseradish Pasta Salad
Sweet and Sassy Turkey Marinade
Sweet Potato Fries with Maple Horseradish Sauce
Tailgate Smorgasbord with 5 Zesty Appetizers
Tater Tot Horseradish Hotdish
Zingy Green Bean Casserole