Flavor Profile
A savory, full body flavor with strong heat.
+
Pairs well with…
Bloody marys
Mashed potatoes
Prime Rib or Roast beef
Oysters
Sour cream for horseradish sauce
A jar of Silver Spring horseradish always starts with roots from our very own horseradish fields. We grind it, naturally preserve it, and chill it to transplant the farm fresh taste directly to your table. Gluten-Free product from Silver Spring.
8 oz. Product - Horseradish, Distilled Vinegar, Water, Salt, Natural Flavor.
Quart & Gallon Products - Horseradish, Distilled Vinegar, Water, Soybean Oil, Salt, Artificial Flavor.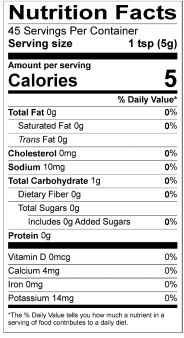 Apple Tart with Walnut-Horseradish Frangipane
Avocado Dip with Horseradish
Bacon Horseradish Crab Rangoon
Bloody Mary Grilled Cheese
Broccoli and Cauliflower Salad
Buttermilk Horseradish Dressing
Cheesy Spinach, Artichoke and Bacon Horseradish Dip
Creamy Horseradish Mashed Potatoes
Creamy Potato Soup with Horseradish
Cucumber-Horseradish Hummus Cups
Easy Creamy Horseradish Dip
Horseradish Bacon Cheese Ball
Horseradish Beef Crostini
Horseradish Dijon Mustard Dip
Horseradish Mac and Cheese
Keto - Chili Lime Steak Fajitas
Mashed Potatoes with Horseradish
Roast Beef & Horseradish Cheese Baked Sliders
Slow Cooker Short-Rib Sliders
Smoked Salmon and Horseradish Hash
Tailgate Smorgasbord with 5 Zesty Appetizers
Zucchini Veggie Rolls with Horseradish Dip
Pete's Simple Summer Marinade
Horseradish Coated Grilled Steak
Quick & Easy Cocktail Sauce
Mama Stamberg's Cranberry Relish
Heat things up!
Homemade Cocktail Sauce
Mix Horseradish + Ketchup
for a quick shrimp dip.
Prepared Horseradish